Stocks end lower amid eurozone jitters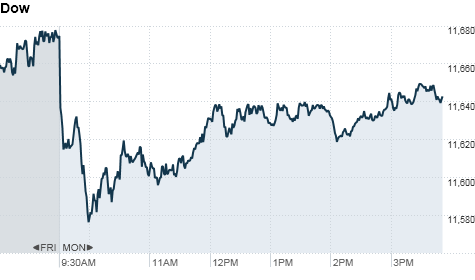 NEW YORK (CNNMoney) -- U.S. stocks came off morning lows but still ended mostly lower Monday following a sell-off in European markets, as investors worried about a possible bailout for Portugal.
The Dow Jones industrial average (INDU) closed down 37 points, or 0.3%. Earlier in the session, the blue-chip index dropped 100 points. The S&P 500 (SPX) shed 2 points, or 0.1%. After spending most of the session in the red, the Nasdaq (COMP) managed to turn higher in the afternoon. The tech heavy index added 5 points, or 0.2%.
"There's a lot of anxiety in the marketplace, with the focus on what's happening overseas," said Bruce McCain, chief investment strategist at Key Private Bank.
Concerns over European debt problems resurfaced as Germany, France and other eurozone countries pressured Portugal to take a bailout to ease its massive debt crisis.
McCain added that the slump could also be part of a small pullback investors have been anticipating following six consecutive weeks of gains.
"We've had a series of very good weeks and now that we're into January, the market is vulnerable to a pullback for the short-term," McCain said.
Meanwhile, investors digested of a slew of corporate merger deals and geared up for the start of fourth-quarter corporate results.
On Friday, stocks dropped after a court ruled against Wells Fargo (WFC, Fortune 500) and U.S. Bancorp (USB, Fortune 500) in a foreclosure case. The ruling sparked a selloff in bank stocks that rippled through the broader market.
The government's latest reading on the labor market also dragged markets lower. The U.S. economy added slightly fewer jobs in December than expected, but the unemployment rate edged lower than economists had anticipated.
That disappointment over the jobs number may continue to trickle into trading this week, said David Jones, chief market strategist at IG Markets.
"There's still an air of caution after the payroll data on Friday," Jones said. "The market had factored in a good number, so anything less than expected is always going to be a disappointment, and shows what a problem U.S. employment really still is going forward."
World markets: European markets fell Monday amid talk that Portugal is being pressured to take a bailout package to stop the spread of eurozone debt. Investors are also preparing for government bond auctions in Portugal, Spain and Italy this week.
"Markets are worrying that the European debt crisis is coming back again," Jones said. "[Portugal] is denying that they need [a bailout], but we saw that with Greece and Ireland as well before they got bailouts."
Britain's FTSE 100 closed down 0.5%, the DAX in Germany lost 1.2% and France's CAC 40 dropped 1.5%.
Asian markets ended lower. The Shanghai Composite fell 1.7% and the Hang Seng in Hong Kong slipped 0.7%. Japan's market was closed for a holiday.
Companies: Shares of Sara Lee (SLE, Fortune 500) jumped 4.5% on reports that Apollo Global Management and other private equity firms are looking into acquiring the food company.
Chemical maker DuPont (DD, Fortune 500) said Sunday it will buy Danisco, a Danish enzyme and food ingredients company, for $5.8 billion in cash. Shares of DuPont slipped 1.5%.
Shares of Progress Energy (PGN, Fortune 500) fell 1.6% after Duke Energy (DUK, Fortune 500) said it will buy the fellow power company for $13.7 billion in stock. Shares of Duke Energy fell 1.2%.
Shares of Standard Microsystems (SMSC) dropped almost 10% after the chip maker announced it is buying rival Conexant (CNXT) for $284 million. Conexant's stock jumped 14.3%.
Playboy's (PLA) stock surged more than 17% after founder Hugh Hefner signed an agreement to take his publicly traded company private. Hefner, who already owns a substantial amount of the adult magazine publisher's shares, has entered an agreement with Icon Acquisition Holdings to pay $6.15 per share for the portion of Playboy Enterprises that he does not own.
Shares of Strayer Education (STRA) sank 23% after the for-profit college said winter new student enrollment dropped 20% from a year ago. For-profit education stocks including Devry (DV), Washington Post (WPO, Fortune 500) and Apollo Group (APOL) were among the biggest losers in the S&P 500.
Shares of General Motors (GM) fell 1% after the plug-in Chevrolet Volt was named North American Car of the Year at the Detroit Auto Show.
Meanwhile, shares of Ford (F, Fortune 500) were up 0.2% after Ford Explorer was voted Truck of the Year, and the automaker announced it will add more than 7,000 new hourly and salaried jobs in the United States over the next two years.
Alcoa (AA, Fortune 500), the first Dow component to report fourth-quarter results, posted its highest quarterly earnings in more than two years and topped forecasts. The aluminum maker earned 21 cents per share during the quarter, on revenue of $5.7 billion. Analysts were expecting 19 cents per share, according to analysts surveyed by Thomson Reuters.
Economy: No major economic reports were scheduled Monday.
Currencies and commodities: The dollar lost ground against the euro, the British pound, and the Japanese yen.
Oil for February delivery edged up $1.22 to settle at $89.25 a barrel.
Gold futures for February delivery rose $5.20 to settle at $1,374.10 an ounce.
Bonds: The price on the benchmark 10-year U.S. Treasury rose, pushing the yield down to 3.30% from 3.33% late Friday.