Wal-Mart promises to sell healthy food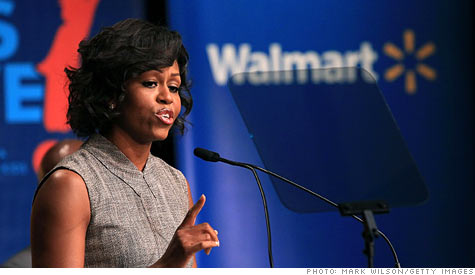 NEW YORK (CNNMoney) -- With the help of First Lady Michelle Obama, Wal-Mart vowed Thursday to start selling healthier food.
The world's largest retailer unveiled a five-year plan for selling more nutritional food at a news conference in Washington that included Mrs. Obama.
"The largest corporation in America is launching a program that has the potential to change the marketplace and help families put nutritious food on their table every single day," Obama said, who promotes health through her "Let's Move" campaign.
"I believe this charter is a huge victory for folks all across this country. Most of all, it's a victory for our children," the First Lady added.
The plan includes reducing sodium by 25% in grain products, lunch meats, salad dressing and frozen food.
It also means reducing sugar by 10% in dairy products, sauces and fruit drinks. Wal-Mart also plans to get rid of packaged food products with industrially produced trans fats.
The company said it would make these changes in its own Great Value line of products, and work with suppliers to make sure they do the same thing.
"No family should have to choose between food that is healthier for them and food they can afford," said Wal-Mart Stores Chief Executive Bill Simon. "With more than 140 million customer visits each week, Wal-Mart is uniquely positioned to make a difference by making food healthier and more affordable to everyone."
Wal-Mart's (WMT, Fortune 500) stock edged up 1% on the news, even as the stock market declined overall.