GE taps science in comeback fight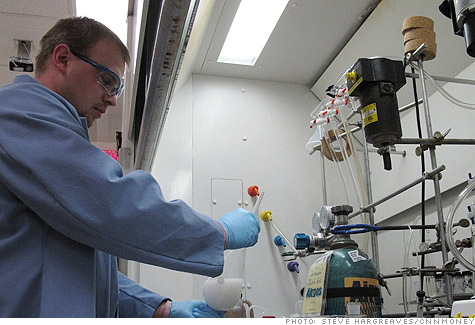 NISKAYUNA, NY (CNNMoney) -- After years playing banker, real estate developer and television mogul while relying on older technology in its core products, GE is going back to the lab to reclaim its role as the world's top innovator.
Electrical engineer Danielle Merfeld, a former NASA employee, once wouldn't think of a career at GE -- she wanted to work at one of the country's national labs or a top research university.
"I actually came to GE as a practice interview," said the 38-year old Merfeld. "I was doing cool semiconductor work and I didn't want to work on just dishwashers or light bulbs."
Now, on a countryside hilltop just north of Albany, not far from where Thomas Edison opened General Electric's first headquarters in 1892, Merfeld is developing the next generation of solar panels she believes will revolutionize the power industry.
In the last five years GE (GE, Fortune 500) has boosted its research and development budget by over a third, from $2.8 billion in 2006 to $3.8 billion today.
In addition to this research campus in Niskayuna, N.Y., which employs nearly 2,000 people, the company has one in Munich, Shanghai and Bangalore, India and another on the way in Rio de Janeiro.
GE's renewed focus on industrial research was brought on by necessity.
The company's capital division, on which it was reliant and which backed everything from commercial real estate to department store credit cards, took a beating during the financial crisis.
The effects persist. GE's stock is still half of what it was pre-2008, as is its dividend.
Perhaps more worryingly, GE faces serious competition in some of its core businesses from companies that never took their eye off industrial products.
Pratt & Whitney is said to have a better small-aircraft jet engine. Siemens (SI) a better steam turbine.
"They have under invested in R&D for the last decade." said Nicholas Heymann, an industrial analyst at Sterne, Agee & Leech. "GE is now scrambling to get back in the game."
Analysts generally applaud some recent moves made by the company's management. GE shed its insurance division, plastics division and majority stake in NBC Universal. It's restructuring its capital unit to move away from consumer finance.
In addition to R&D, it's reinvesting in its core businesses -- energy, infrastructure, and industrial finance.
In 2001 it scooped up Enron's wind business out of bankruptcy for $200 million. In 2009 wind generated $6 billion in sales and made the company one of the top makers of wind turbines in the world.
Six billion is just a small slice of the company's overall 2009 sales of $156 billion. But products from its much-touted ecomagination campaign, which includes all sorts of renewable energy and energy saving devices, generated $18 billion. And the firm is working on next-generation energy technology as well.
At the New York research lab, scientists are busy developing a chemical that can be sprayed down the smoke stacks of coal-fired power plants.
The spray would bond with carbon dioxide molecules, forcing the carbon to fall to the ground where it can be collected and buried. This is one way to make "clean coal," a phrase often batted about by politicians but a technology that remains far from commercialization.
While GE's clean coal technology is still on the drawing board, its advanced batteries developed at the lab are about to pay off, both in terms of revenues for the company and local jobs.
Using technology developed for electric locomotives (another GE business), lab scientists have made a battery that can hold three times the energy as a traditional lead acid variety and lasts five times as long.
Plans are underway to sell the battery as back-up power sources for cell phone towers or hospitals, and the company's old factory in downtown Schenectady is being retooled to make the line, which will require 350 workers.
Smart grid solutions, advanced composite materials for wind turbines and aircraft, nano-engineered skins that deflect water are all part of the focus here, as well as traditional research into medical devices, jet engines, turbines and other materials.
Merfeld's solar research centers around thin film technology. It's currently less efficient than traditional crystalline solar panels but only about half as expensive to make.
"When I got here, I was shocked to see that they were working on aircraft engines, coatings, solid state lighting," she said. "Energy problems, health care problems, stuff that was going to change the world."
Outside observers say GE's foray into renewables, and its broader R&D push, should pay off.
"I think they will do well over time," said Kent Croft, whose mutual fund bought half a million GE shares a few years back as a long term investment. "The odds are more with you with GE than they have been in a while."
"Organic growth is the number one way for GE to generate value for shareholders," said Sterne and Agee's Heymann, who has a neutral rating on the stock. "But when you run a company on the wrong track for so long, it takes a while to bring back."