10 most romantic cities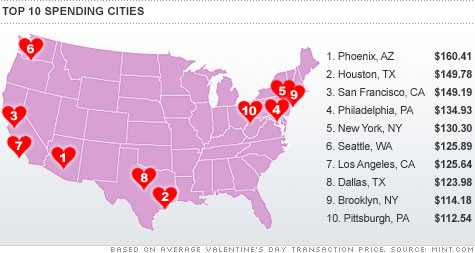 NEW YORK (CNNMoney) -- It could have something to do with the heat, but residents of Phoenix, Ariz., shelled out more dough in the days leading up to Valentine's Day than any other city nationwide.
Those in Arizona's largest city spent, on average, $160.41 per transaction on Valentine's-related gifts and gestures, such as chocolates, flowers, jewelry and yes, lingerie, according to Mint.com, a personal finance site that tracks expenditures of its more than 3 million members.
The site aggregated purchases at retailers such as Godiva, FTD, 1-800-Flowers, Victoria's Secret, Tiffany, Blue Nile and Zales between Feb. 1 and Feb. 10.
Houston was the second most romantic city, followed by San Francisco and Philadelphia. New York City rounded out the top 5, with New Yorkers spending $130.30 per transaction, according to Mint.
The city that never sleeps may not be the most romantic city, but it could be the sexiest, based solely on lingerie purchases. At Victoria's Secret alone, individuals spent more than $80 per transaction in the days before Feb. 14. San Francisco and Boston tied (the knot) for the second most intimate city.
And if New York is sexiest, than Houston is the most sentimental. That city topped all others when it came to sending flowers, averaging nearly $100 per transaction at 1-800-Flowers, where not surprisingly, a dozen long-stem red roses were the top seller.
Across the country, Valentine's Day related spending is up 11% this year, according to the National Retail Federation's 2011 Valentine's Day survey.
The average person will shell out $116.21 on traditional Valentine's Day merchandise this year, up from $103 last year. Total holiday spending is expected to reach $15.7 billion, the NRF said.