Weight-loss stocks post large-scale gains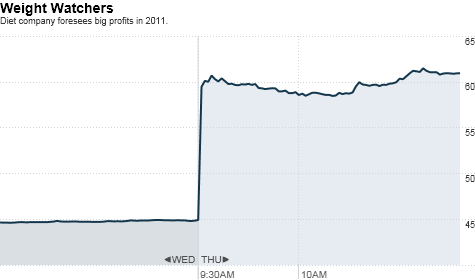 NEW YORK (CNNMoney) -- If going on a diet was your New Year's resolution this year, Wall Street is betting that you'll succeed.
Shares of Weight Watchers (WTW), the company behind the point-based diet system, surged 35% Thursday after the company issued a far better-than-expected 2011 profit outlook.
The New York-based company said it expects to earn between $3.50 and $3.85 per share this year. Wall Street analysts surveyed by Thomson Reuters were expecting full-year earnings between $2.64 and $2.90 per share.
Weight Watchers said net income in the fourth-quarter surged 160% to $48.9 million, or 66 cents per share, from $18.7 million, or 24 cents per share, a year earlier. Full-year earnings for 2010 were also above expectations.
The blockbuster report helped boost shares of other diet companies such as NutriSystem (NTRI), which gained nearly 4% in early trading. Shares of eDiets.com (DIET), a minor player in the weight-loss business, were up 25% to about 5 cents each.
David Kirchhoff, chief executive of Weight Watchers, said the results were driven by strong demand for the company's subscription-based weight-loss products, which involve weekly meetings and Web-based dietary services.
"We are seeing terrific enrollment volumes in our North American and U.K. meeting businesses and further strengthening in our WeightWatchers.com business," he said.
Weight Watchers overhauled its points system late last year, upgrading the decades-old calorie guidelines and launching an aggressive advertising campaign.
The new "PointsPlus" system was the main force behind Weight Watcher's strong performance in the fourth quarter, said Kurt Frederick, an analyst at Wedbush Securities.
"We expected a good quarter, but not this good," he said.
The trend will probably continue in the first quarter, which is the unofficial start of "diet season," said Frederick. But earnings for diet companies such as Weight Watchers tend to taper off near the end of the year, he added, when dieters' conviction bumps up against the holiday eating season.