Palin: America 'on a road to ruin'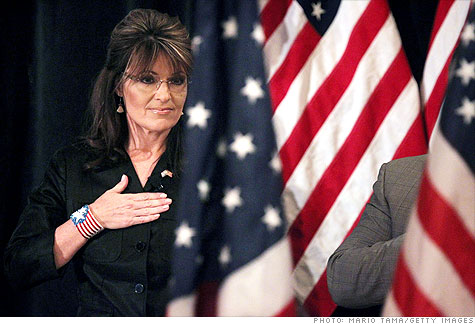 NEW YORK (CNNMoney) -- Sarah Palin delivered a harsh critique of President Obama's budget proposal during a rare Q-and-A session Thursday, and urged lawmakers to resist raising the nation's debt ceiling.
Palin warned that Obama's budget fails to address the "$14 trillion dollar debt that will bring America to her knees."
The former vice presidential nominee's comments on the nation's fiscal state were delivered during a luncheon hosted by the Long Island Association, which bills itself as as the largest business organization in New York.
Many of the questions were focused on the economy and fiscal policy, and provided a glimpse into the thinking of the possible 2012 presidential candidate.
Palin was quick to criticize the spending levels in Obama's fiscal 2012 budget, and took the president to task for failing to propose entitlement reform.
"What President Obama is doing and what this administration is supporting is America being on a road to ruin, unless we do take seriously this monumental debt," she said.
Palin also said she is thankful for lawmakers who are prepared to vote against raising the nation's debt limit, which is a cap set by Congress on the amount of debt the federal government can legally borrow.
"To me, all that is going to do is create this allowance for more big spenders to get in there and say 'more debt ceiling, OK we are going to keep spending then up to that ceiling,' " Palin said.
Actually, raising the debt ceiling is not an agreement to spend more money. The need to raise the debt ceiling reflects prior legislative decisions that both Democrats and Republicans made to spend more.
Palin said a failure to increase the debt ceiling would not necessarily result in a government shutdown. She noted that the government would continue to collect revenue that can be used to service the nation's debt.
"There are a lot of people though who are saying shut her down, if that's what it takes," Palin said. "Let it be for a week or two there this message that is sent to our politicians who are so tone deaf to what the people of America are saying."
If lawmakers fail to authorize an increase in the debt limit, the Treasury Department can raise funds for a limited time to meet federal obligations without exceeding the debt ceiling.
But Treasury Sec. Tim Geithner has warned lawmakers that even a short-term breach of the ceiling could have devastating implications.
"Even a very short-term or limited default would have catastrophic economic consequences that would last for decades," Geithner wrote earlier this year in a letter to lawmakers.
At a minimum, a default could pummel U.S. bonds, the dollar and U.S. investors' portfolios. And that, in turn, could create a debt crisis for the United States that would likely be even harder to combat than the financial crisis of 2008, Geithner said.
Borrowing costs would rise across the board -- for federal, state and local governments, and for businesses and consumers, he said. Millions of jobs could be lost and stock prices, home values and retirement savings would suffer, Geithner added.