Kenneth Cole shares drop after CEO resigns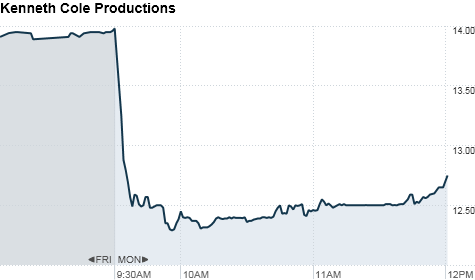 NEW YORK (CNNMoney) -- Kenneth Cole Productions' (KCP) shares fell 9% on Monday after the company announced its CEO Jill Granoff was resigning, effective immediately.
The unexpected announcement came at the same time as the fashion house posted a $2.7 million loss, or 15 cents a share, as revenue declined 11% to $120.8 million in the company's fourth quarter.
The fourth quarter is typically the biggest earnings period for fashion companies because of the Christmas holiday shopping season.
The company's namesake and "chief creative officer" Kenneth Cole said it was a "mutual decision" that Granoff was leaving the company. Granoff also resigned her seat on the company's board of directors.
A long-time fashion industry executive, Granoff left her position at Liz Claiborne (LIZ) to take control of Kenneth Cole in April 2008. Granoff ran the company through the financial crisis and subsequent recession; and despite the recent economic recovery, Kenneth Cole shares are down nearly 30% since she took the reins.
Kenneth Cole Productions said fashion executive Paul Blum would return as interim CEO after a four-year stint as CEO of jewelry house David Yurman.
Kenneth Cole shares were down $1.19, or 8.5%, to $12.79 in mid-day trading.