Oil industry reassured on Middle East stability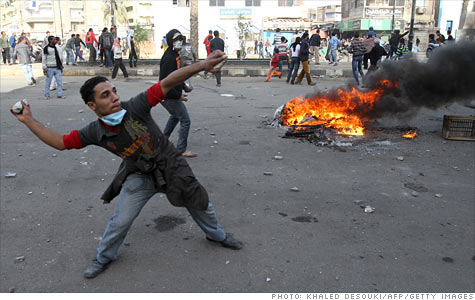 HOUSTON (CNNMoney) -- A longtime American diplomat to the Middle East provided some reassuring words to the oil industry Wednesday: The situation in Libya and Egypt may remain tumultuous for some time, but the major oil producing countries of Saudi Arabia, Kuwait, Iran and Iraq will likely stay stable.
"The traditional regimes are going to come through this pretty well," Retired Ambassador Ryan Crocker told a crowd of energy industry executives at IHS CERA's annual conference. "They are very sensitive to their populations, and have made numerous changes."
Turmoil in the Middle East has spooked oil traders, who have sent the price of U.S. crude up over 10% in the last month. The biggest fear is that the unrest in Libya, Egypt, Bahrain and elsewhere will spread to the big oil producing nation's in the Gulf.
Crocker, whose 37 years in the Foreign Service included stints as ambassador to Iraq, Pakistan, Syria, Kuwait and Lebanon, predicted Moammar Gadhafi will likely hold onto power in Libya, although maybe not the whole country. That could lead to years of civil war, and a possible long term disruption of Libya's 1.6 million barrels a day of oil production.
In Egypt, transition may well take years, said Crocker and Syria may be the next regime to fall. Neither Egypt nor Syria export major amounts of oil.
Most of the other major oil producing counties in the region, which accounts for over a third of the world's oil 86 million-barrel-a-day oil supply, will remain relatively stable, he said. It was a theme other Middle East experts have told this audience in Houston over the last few days.
Angloa, with it's 1.7 million barrels a day in production, should remain stable. The country has just recently emerged from decades of bruising civil war, said Crocker.
Iraq, with it's 2.4 million barrels a day, should also remain relatively calm despite recent protests. Those protests, said Crocker, were more about demanding the government provide basic services, not that it disband altogether.
The discord in Iran, which produces 3.7 million barrels a day, is more about which way the Islamic revolution of 1979 should head, said Crocker. He does not foresee a complete change of regime.
And the "tradition regimes" Crocker referred to, including Saudi Arabia, Kuwait and the United Arab Emirates, which together pump over 13 million barrels a day, should be OK so long as their leaders continue to make concessions to a population calling greater transparency, more democracy, and faster economic growth.