Stocks fall sharply on global, economic fears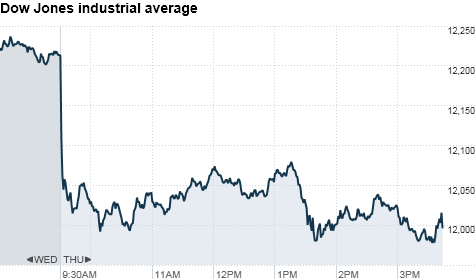 NEW YORK (CNNMoney) -- U.S. stocks plunged into a deep sea of red on Thursday, as economic fears at home and political concerns in Saudi Arabia weighed heavily on investor sentiment.
At the preliminary close, the Dow Jones industrial average (INDU) tumbled 228 points, or 1.9%, to end at 11,985. It was the worst point drop in the Dow since August 11.
All but one of the Dow's 30 components closed lower in Thursday's session. Energy and materials stocks were among the hardest hit, with Exxon Mobil (XOM, Fortune 500), Caterpillar (CAT, Fortune 500) and Chevron (CVX, Fortune 500) all retreating 3% or more.
The S&P 500 (SPX) lost 25 points, or 1.9%, to close at 1,295; and Nasdaq Composite (COMP) lost 51 points, or 1.8%, to 2,701.
Thursday's selling accelerated in the afternoon following news reports saying police in Saudi Arabia had fired shots or grenades at anti-government protestors. Protestors had reportedly scheduled a "Day of Rage" similar to the one that occurred in Egypt earlier this year.
Oil, which had been down as much as 3% earlier, erased the bulk of its losses following the reports.
Investors are worried the situation in oil-rich Saudi Arabia could deteriorate further, adding to the massive ongoing violence in Libya.
Saudi Arabia is a major oil producer, said Prudential Financial market strategist Quincy Krosby. "You don't know where this Saudi issue is going to go but you do know it's the country that could really cause supply disruptions."
Bond prices rose as investors fled to the safety of government-backed investments.
Wave after wave of disappointing or disconcerting economic data has put heavy pressure on U.S. stocks. Before the open, investors got a wider U.S. trade gap and a worse-than-expected jobless benefit claims report.
"Now we're back focusing on the economy," said Marc Pado, chief equity strategist with Cantor Fitzgerald.
Economy: The U.S. trade balance for January widened to $46.3 billion -- a five-month high. The gap was much wider than the $41.5 billion forecast, according to a consensus estimate from Briefing.com.
Initial unemployment benefit claims rose more than expected in the latest week to 397,000, the Labor Department said. The increase was due partly to a catch-up effect from the President's Day holiday the previous week.
World markets: Asian markets fell after China reported a surprise trade deficit, as imports outpaced exports in February for the first time in nearly a year.
In Europe, the debt crisis made headlines again after credit agency Moody's cut Spain's credit rating. Moody's downgraded Greece's debt another notch earlier this week.
"All the data both here and abroad seems to be conspiring to attack investor attitudes today," said Jack Ablin, chief investment officer at Harris Private Bank.
The major European indexes closed sharply lower on Thursday. Britain's FTSE 100 lost 1.6%, the DAX in Germany fell 1% and France's CAC 40 declined 0.8%.
Moody's cut Spain's government bond rating to Aa2 with a negative outlook from Aa1, and said further downgrades are possible.
Asian markets ended sharply lower. The Shanghai Composite fell 1.5%, the Hang Seng in Hong Kong slid 0.8% and Japan's Nikkei tumbled 1.4%.
Companies: Starbucks (SBUX, Fortune 500) and Green Mountain Coffee (GMCR) announced a deal that will put Starbucks coffee into Green Mountain's K-Cup single-cup brewing packets.
Shares of Green Mountain jumped 41%, while Starbucks shares were up nearly 10% on the deal.
Shares of hospital chain HCA (HCA) rose 4% on the day of its initial public offering. HCA priced its initial public offering at $30 per share, raising an estimated $3.8 billion for both the company and existing shareholders. It is considered to be the largest private-equity backed IPO in U.S. history, according to Renaissance Capital.
Radio station operator Cumulus Media (CMLS) shares fell 8%, after it announced it was purchasing Citadel Broadcasting for $2.4 billion.
Currencies and commodities: The dollar rose against its main trading partners, including the euro, the Japanese yen and the British pound.
Gold futures for April delivery fell $17.60 to $1,412 an ounce.
Bonds: The price on the benchmark 10-year U.S. Treasury rose, pushing the yield down to 3.37% from 3.47% late Wednesday.