Is 3 the magic number for bonds?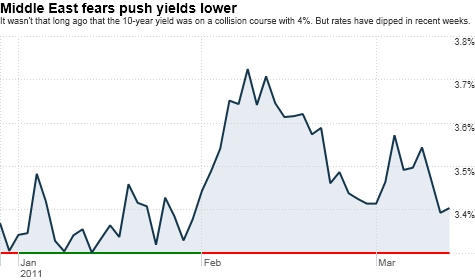 NEW YORK (CNNMoney) -- It's time to turn the clocks forward Sunday. But in the bond market, investors have turned the clock back to late January.
The yield on the benchmark 10-year Treasury dipped to 3.37% at one point Friday morning. It hasn't been that low since Jan. 31.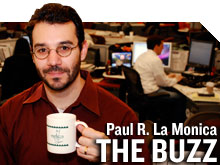 The earthquake in Japan and continued worries about turmoil in the Middle East and Northern Africa appeared to be making investors nervous and pushing them into U.S. government bonds. (Yields fall when people buy bonds and prices go up.)
Interestingly, yields have continued to fall this week despite the fact that influential bond fund manager (and current Treasury bear) Bill Gross sold his remaining U.S. government debt holdings. Gross is manager of the Pimco Total Return Fund (PTTRX), the world's largest bond fund.
What's truly astonishing is that it wasn't that long ago that investors were more worried about inflation pushing the 10-year above 4%. The 10-year hit 3.74% as recently as Feb. 9.
So what's next? Inflation hawks may continue to cry about how the weak dollar and mammoth budget deficit should eventually lead to much higher interest rates.
But for now, the market is squarely focused on the turmoil throughout the globe -- and that should cause Treasury yields to fall even lower in the near-term.
Investors typically buy Treasuries as a classic safe haven play. Despite the many fiscal and economic challenges facing the United States, the U.S. is still viewed as the most stable of developed markets.
"You get lower rates anytime there is uncertainty. It's that flight to quality, and it's making its way through the market now," said Tom di Galoma, head of fixed income rates trading with Guggenheim Securities in New York.
di Galoma said he did not think Japan is having that big of an impact on the bond markets Friday.
But with a "Day of Rage" planned in Saudi Arabia and more unrest in Libya, geopolitical forces will probably continue to make Treasuries attractive to buyers. di Galoma said he would not be surprised if the 10-year yield dropped back to around 3.05% before long.
Arne Espe, vice president of mutual fund portfolios at USAA Investment Management Company in San Antonio, thinks rates could fall even lower. He said Middle East woes could push the 10-year below 3%. The last time rates were below 3% was early December.
Espe, who manages the bond portions of the USAA Cornerstone Strategy Fund (USCRX) and USAA Balanced Strategy Fund (USBSX), said investors are also anxious about what the Federal Reserve plans to do next.
The Fed meets on Tuesday March 15, and is widely expected to say that it will complete its purchase of $600 billion of U.S. bonds, a policy known as quantitative easing, later this spring as intended.
But there has been an open debate as to whether even more bond purchases are necessary or if the latest round, dubbed QE2 since it is the second such program, was sufficient to help the economy get back on track.
Espe said that if energy prices continue to rise and leads to lower forecasts for the gross domestic product of the U.S., the Fed may be forced to intervene in the bond markets yet again.
"If GDP growth slows because of oil, we could have QE3," he said.
That could lead to even lower yields -- although rates actually went up after the Fed unveiled QE2 in November.
Still, one money manager said that not much really has changed for the U.S. economic outlook in the past few weeks.
Jim King, president and chief investment officer of National Penn Investors Trust Company in Reading, Pa., said he thinks bond yields rose too quickly earlier in the year, as investors got too excited about strong retail sales and improved data about the job market.
King said he thinks the 10-year could fall to about 3.15% but not below that. But he also said rates likely won't rise much higher than 4% this year. Simply put, the Middle East oil fears are a reminder that the economy is not in tip-top shape just yet.
"The U.S. economy is on the way to recovery but there absolutely will be more stumbles along the way," King said.
Reader comment of the week and get ready for March Stock Mania! I tweeted earlier Friday about how poor Verizon (VZ, Fortune 500) and AT&T (T, Fortune 500) shares fell even though the iPad 2 was going on sale. I sarcastically asked if there was any compelling reason to own either stock.
John Riewe, aka @johnjriewe, had a pithy response. "Are any telecoms attractive?" Well-played!
Finally, be sure to check out CNNMoney every day next week! (But you do already though, right?) In honor of the NCAA basketball tournament, we have a bracket of 32 widely followed stocks and we want you to pick your favorite.
Vote each day to pick which stock you like the best. Winners advance to another round the next day. By the end of the week, we'll be down to 2 contenders. We'll reveal the winner on Monday, March 21.
-- The opinions expressed in this commentary are solely those of Paul R. La Monica. Other than Time Warner, the parent of CNNMoney, and Abbott Laboratories, La Monica does not own positions in any individual stocks.