Why commodities are rallying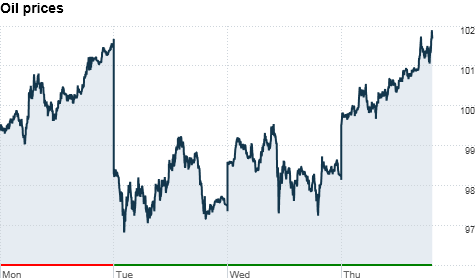 NEW YORK (CNNMoney) -- Commodities appear to be back in rally mode. But appearances can be deceiving.
"Investors are grappling with counterbalancing forces and a lot of unknowns, so it's a difficult environment," said Andrew Lebow, senior vice president at MF Global.
Earlier this week, traders dumped commodities amid fears that the disaster in Japan could trigger a global economic slowdown. But the slump was brief.
Oil prices, which had recently been comfortably below $100 a barrel, surged more than 3% Thursday to over $101 a barrel.
And there could be more wild swings to come as investors face a wall of worry.
Political tensions in the Middle East and North Africa, which initially pushed crude prices above $100 a barrel last month, are still hanging in the balance. Investors are also uncertain about supply and demand fundamentals stemming from Japan's disaster.
"We still don't know what the ultimate outcome of all of Japan's problems, but the market seems to be relieved, at least for now," Lebow said.
As crude oil staged a comeback, so did natural gas prices, which rallied over 5% to $4.15 per thousand cubic feet, as investors anticipated that Japan will look to liquefied natural gas to fill its energy gap as it sorts out its nuclear power problems.
Interestingly, gold prices have been relatively lackluster. Investors typically flock toward gold during times of fear and uncertainty, but earlier this week, gold prices tumbled more than 2%. Gold has gotten caught up in the recent run on commodities but prices are still down more than 1% for the week.
"Investors were overly concerned about the events in Japan and had been liquidating pretty much any position they had and moving into cash," said Rohit Savant, senior commodities ananlyst at CPM Group.
Still, Savant said the bullish sentiment toward gold is still intact, and investors are slowing getting back into the precious metal. Gold prices rose $8.10, or 0.6%, Thursday to $1,404.20 an ounce.
Other metals were getting a bigger bounce. Copper prices rallied more than 3%, while platinum rose 0.3% and palladium climbed 1.4%. Much of that is due to the anticipated rebuilding in Japan.
"As Japan moves forward and begins the reconstruction process, demand for industrial metals will increase," said Jeffery Nichols, managing director at American Precious Metals Advisors.