Dow jumps 160 after two days of losses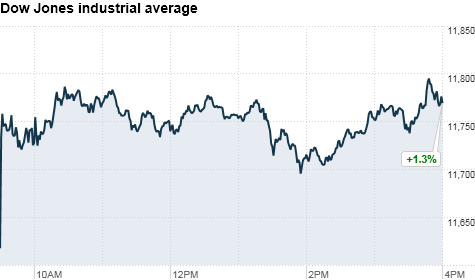 NEW YORK (CNNMoney) -- U.S. stocks closed broadly higher Thursday, after two days of heavy losses on Wall Street, as investors cheered an upbeat outlook from economic bellwether FedEx.
Despite today's gains, trading has been volatile this week as investors remain jumpy about the nuclear crisis in Japan.
The Dow Jones industrial average (INDU) jumped 161 points, or 1.4%, to 11,775. The Dow had 26 out of its 30 members close higher during the session, led by shares of Hewlett-Packard (HPQ, Fortune 500) and Pfizer (PFE, Fortune 500).
The S&P 500 (SPX) rose 17 points, or 1.3%, to 1,274, and the Nasdaq Composite (COMP) gained 19 points, or 0.73%, to 2,636.
Among the best performers in the S&P 500 were Federal Express (FDX, Fortune 500) and United Parcel Service (UPS, Fortune 500). FedEx issued earnings guidance that topped analysts' forecasts and said it still expected moderate economic growth this year.
Investors typically view FedEx and UPS as good indicators about the economy because of their roles in transporting billions of dollars worth of goods every year.
Railroad stocks also rose, with shares of CSX (CSX, Fortune 500), Norfolk Southern (NSC, Fortune 500) and Union Pacific (UNP, Fortune 500) all up 2.5% or more.
The recovery came a day after U.S. stocks posted steep losses, with all three major indexes hitting their lowest levels of the year on ongoing concerns about Japan's nuclear reactor.
"The news continues to be frustratingly unclear out of Japan," said Kate Warne, investment strategist with Edward Jones. "It's been a lot of selling and asking questions later, but there's more going on in the world than just Japan."
Japan has been aggressively working to avert a meltdown at the Fukushima Daiichi nuclear power plant, following last week's devastating earthquake and tsunami. (CNN.com's Japan coverage)
Warne said she believes Japan's problems will not spill over into the global economy.
"People have been reacting to the pictures on the screen, not to what Japan means six months forward," Warne said. "I don't think longer-term impact of the tsunami and reactors will derail global growth or derail corporate earnings."
World markets: Asian markets fell, with the Nikkei in Japan (NKY) falling 1.4%, the Shanghai Composite sliding 1.1%, and the Hang Seng in Hong Kong losing 1.8%.
But stocks in London, Frankfurt and Paris closed higher after French Finance Minister Christine Lagarde initiated a Group of Seven conference call to discuss ways to support Japan. The U.S. dollar hit an all-time low against the yen on Wednesday.
The G7 call -- which includes finance and central banking leaders from the United States, Japan, United Kingdom, France, Canada, Italy and Germany -- is scheduled for later Thursday.
Lagarde told reporters that the group will discuss buying Japanese bonds as one possible way to shore up the world's third-largest economy.
Britain's FTSE 100 rose 1.8%, the DAX in Germany gained 2.2% and France's CAC 40 added 2.4%.
Companies: Shares of The New York Times (NYT). rose as much as 4% Thursday after the company revealed details about its much-anticipated pay wall system. Shares closed up only 0.3% at the end of the day, however.
Shares of Nike (NKE, Fortune 500) dropped 6% after the market close after the athletic apparel maker said it had a third-quarter profit of $1.08. The earnings were well short of the $1.12 a share analysts were looking for, according to Briefing.com.
Economy: The U.S. consumer price index has risen 2.1% in the past year, according to the Commerce Department. That marked the fastest rate since April 2010. Underlying inflation remained low.
In other reports, the number of first-time claims for unemployment benefits fell to 385,000 last week. Continuing claims hit their lowest level since September 2008.
Currencies and commodities: The disaster in Japan has driven the yen sharply higher against the dollar on demand for safe-haven assets and speculation that more cash will flow back into the country as it rebuilds. After the dollar hit an all-time low versus the yen on Wednesday, it edged about 1% higher early Thursday.
Meanwhile, the dollar fell against the euro and the British pound.
Oil for April delivery jumped $3.60 or 3.7%, to $101.56 a barrel.
Gold futures for April delivery rose $8.90 to $1,405.00 an ounce.
Bonds: The price on the benchmark 10-year U.S. Treasury fell, pushing the yield up to 3.27%.