Yen stabilizes after hitting record high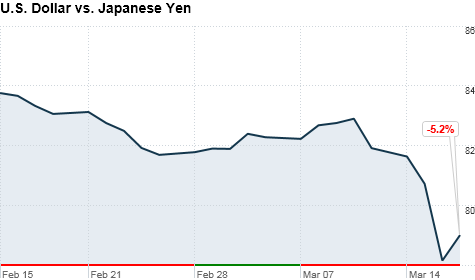 NEW YORK (CNNMoney) -- The dollar strengthened against the Japanese yen Thursday ahead of a conference call of G-7 finance ministers that might be the first step toward intervention by Japanese authorities in currency markets.
The call comes after twin natural disasters pushed the yen to a record high against the dollar, and fears over the country's unfolding nuclear crisis continue to spook investors.
On Wednesday, the dollar fell as low as 76.54 against the yen in late trading, dipping under the previous all-time low of 79.75 set in April 1995. By Thursday afternoon, the dollar had stabilized around 79 versus the yen.
Reports published in advance of the conference call speculated that finance ministers would voice a measure of support for Japanese efforts to weaken the yen.
For an economy facing a tough road ahead, a weaker currency would be a good thing. A stronger home currency will make Japanese goods more expensive in overseas markets, to the detriment of Japan's manufacturing industry.
Under normal circumstances, intervention would be frowned on by other central bankers, but because of the scale of the disaster, Japanese authorities might be given a free pass by their counterparts.
Despite the nation's turmoil in recent days, the yen has long been a haven for risk-averse investors.
In the coming months, Japanese corporations are expected to repatriate vast amounts of capital. Those funds are currently tied up in foreign markets but will be needed to facilitate rebuilding. That phenomenon would act to strengthen the currency further.
At this point, most analysts see global risk as the dominating factor for the yen's rise. In addition to the natural disasters in Japan, Portugal's credit rating was downgraded on Wednesday. And violence in the Middle East and North Africa continue.
All that uncertainty is sending investors scurrying for cover, moving from high-risk assets into cash and bonds.
If Japan is able to arrest the yen's appreciation, it might allow the country to turn its attention to other matters: calming equity markets, bolstering government bonds and starting the rebuilding process.