FedEx delivers good news for economy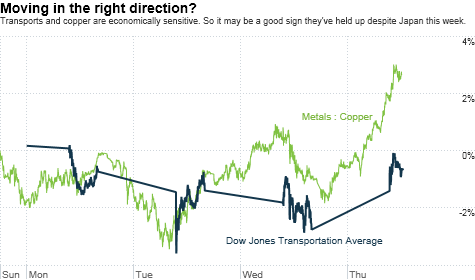 NEW YORK (CNNMoney) -- Is the economy of the United States in better shape than many people think?
If you look at the latest earnings forecast from FedEx, the answer would appear to be yes.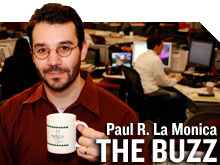 It's tough to find a company that is more economically sensitive than FedEx. To use a well-known George Carlin-ism, FedEx doesn't do well if people aren't buying or making "stuff." That's because FedEx ships all that "stuff."
FedEx reported results for the quarter that ended in February on Thursday morning. And while earnings were down about 3% from a year ago, sales were up 11%. CEO Frederick Smith said in a statement that the gains were driven by "continued growth in the global economy."
Now a cynic might argue that FedEx won't be able to keep growing this quarter. After all, the turmoil in the Middle East and Northern Africa doesn't appear to be getting better. And on top of that, there's the nuclear crisis in Japan following last week's devastating earthquake and tsunami.
But FedEx did explicitly state in its outlook for the current quarter, which ends in May, that "earnings could be affected by the impact of the ongoing political turmoil in the Middle East and North Africa on fuel prices and the economy."
FedEx added that the impact of Japan on costs, shipping patterns and the global economy is "uncertain." The U-word is one of Wall Street's least favorite. So you'd think that FedEx would slash its guidance and its stock would tank, right?
Nope. Despite the abundance of caution in its report, FedEx said it expects a profit this quarter of between $1.66 and $1.83 a share. Analysts had been expecting a profit of $1.68. So the $1.75 or so midpoint of FedEx's outlook is a pleasant surprise.
FedEx (FDX, Fortune 500) shares rose more than 5% on the news. Rival UPS (UPS, Fortune 500) was up 3%, and the Dow Jones Transportation Average (DJT), of which both companies are members, gained 2%.
Doug Cote, chief market strategist with ING Investment Management in New York, said FedEx's forecast is an example of why investors should not underestimate the U.S. consumer and economic recovery.
"The major story of 2011 will continue to be the resilience of the U.S. economy and markets," he said. "The events in Japan have simply separated the bulls from the wobbly bulls. Earnings remain strong."
That makes sense. As long as FedEx isn't setting the bar too high and ignoring the possible impact of higher oil prices and an ever worsening situation in Japan, good earnings news for FedEx is good news for the economy.
"FedEx's results do reflect an ongoing global rebound. The crisis in Japan and events in Libya and the Middle East are something to be wary of but they are not a curtain call for the global economic recovery," said Sean Snaith, director of the Institute for Economic Competitiveness at the University of Central Florida in Orlando.
Snaith, who is also a participant in CNNMoney's exclusive economist survey, said that he was not surprised by FedEx's upbeat outlook. He said that, so far, it does not appear as if U.S. consumer demand is waning due to the events taking place around the world.
He thinks the biggest risk for companies is that commodity prices continue to spike higher. That could hurt profits.
However, Snaith said he thinks businesses are in better position to withstand a sudden rise in expenses as opposed to a sharp drop in demand because many companies got really lean and mean during the recession.
"Firms have gotten efficient and raised productivity. So they are in a good place to handle rising cost of commodities. This is not a demand issue yet," he said.
FedEx's bullish outlook looks even better when you factor in the recent rebound in copper.
I wrote a column last week about how the price of copper and the performance in transportation stocks usually tracked each other. Copper is used in a large variety of "stuff." So copper, like the transport stocks, is also viewed as an important economic bellwether.
Some have been worried that up until recently, copper prices had been falling even as transportation stocks held up relatively well. But this week, even with the horrific news out of Japan, copper prices have risen nearly 4%.
Paul Dietrich, CEO of Foxhall Capital Management, an investment firm in Orange, Conn., said that he expects the copper comeback to continue. As long as emerging markets continue to grow and build up infrastructure, it's almost impossible for copper to not keep rising.
"You don't have to be a brain surgeon to understand that demand from China, India and Brazil should keep copper prices up," he said.
Cote added that's a good sign for all big U.S. companies and the U.S. economy at large.
"People are missing the extraordinary impact of developing markets on U.S. businesses. What FedEx showed is that there is still continued growth in the global economy," he said. "Emerging markets are not emerging anymore. They've already emerged."
Reader comment of the week and March Stock Mania update! I am out tomorrow. The Buzz will be back on Monday. So here's an early shout-out to my favorite Twitter feedback.
I tweeted earlier this week about how HP (HPQ, Fortune 500) shares were falling even though new CEO Leo Apotheker was making the media rounds to talk up the company's dividend increase and new strategy.
Apotheker was not perceived to be the best choice to replace Mark Hurd, who many credit for getting HP back on track after the Compaq deal hit some speed bumps and cost Carly Fiorina her job.
But one Twitter follower thinks that Hurd, who left HP amidst a scandal and subsequently joined Oracle (ORCL, Fortune 500), actually left Apotheker in a tough position because of the acquisition spree he engineered.
"I'm not sure anyone can fix the mess Hurd cobbled together," wrote @Contrahour. Interesting. Fiorina got slammed for Compaq. But under Hurd's watch, HP shelled out nearly $25 billion for Mercury Interactive, Opsware, EDS, 3Com and Palm.
Finally, we're almost down to the finals in CNNMoney's March Stock Mania bracket. It looks like Ford will take on Apple based on the current votes. Come back Friday to vote in the final and again on Monday to see who will take the crown as your favorite stock!
-- The opinions expressed in this commentary are solely those of Paul R. La Monica. Other than Time Warner, the parent of CNNMoney, and Abbott Laboratories, La Monica does not own positions in any individual stocks.