Oil turns lower after Libya's call for cease-fire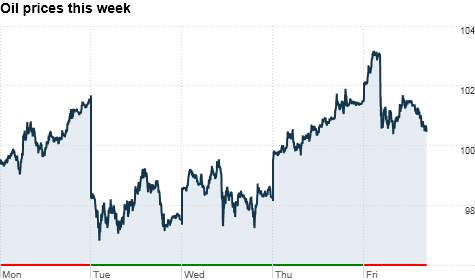 NEW YORK (CNNMoney) -- Oil prices ticked lower Friday after Libya declared a cease-fire following a United Nations' vote for a no-fly zone over the nation.
The U.N. late Thursday voted 10-0, with 5 abstentions, to impose a no-fly zone over Libya in an effort to protect civilians in the battle between rebels and forces loyal to leader Moammar Gadhafi.
Gadhafi's regime responded early Friday by declaring an immediate cease-fire.
"This is a complete change of heart from the Libyan defense officials," said Phil Flynn, senior market analyst at PFG Best. "Yesterday they were talking about attacking planes, and today they're calling for a cease-fire. The question is whether anyone believes them, and whether it's too late now."
After rising about 1% earlier in the session, U.S. oil prices for April delivery fell 35 cents to settle at $101.70 a barrel.
Brent crude, the benchmark European contract, fell 1.4% to $113.52 a barrel for May delivery.
The cease-fire announcement sent oil prices lower, Flynn said, because it eased some concerns about disrupted supply from the region. Libya is Africa's third-largest oil producer and sits atop the continent's largest reserves.
The situation in Libya has taken the spotlight for now, Flynn said, but he expected trade to vary widely throughout the day.
"There's violence in Bahrain and Yemen, and oil tankers going through the volatile Mediterranean," Flynn said. "And we don't know that Libya is going to do what they've said. We know they've used terror tactics in the past."
Also on investors' minds was demand fundamentals stemming from Japan's disaster. The 8.9-magnitude earthquake that hit northern Japan last Friday triggered a massive tsunami that swept across towns and killed thousands.
Earlier this week, traders dumped commodities on fears that the situation in Japan could trigger a global economic slowdown. But by midweek, oil was staging a comeback. On Thursday, crude prices surged more than 3%.
Friday's commodities downturn also hit natural gas prices, which fell 0.4% to $4.14 per thousand cubic feet.
Natural gas prices had jumped 5% in the previous session on expectations that Japan will look to liquefied natural gas as it sorts out the nuclear power problems that have arisen as a result of the earthquake.
The national average price for a gallon of regular unleaded gasoline fell 0.6 of a cent to $3.540 on Friday, according to motorist group AAA. It was the fourth consecutive decrease.
The nation's most expensive gas is in Hawaii at $4.029 a gallon, and the cheapest is in Wyoming, with an average of $3.296, according to AAA.