Stocks post third straight day of gains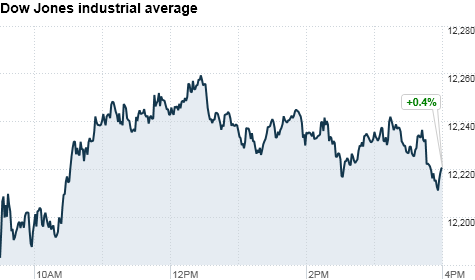 NEW YORK (CNNMoney) -- U.S. stocks rose for a third straight day Friday, as investors shrugged off geopolitical concerns and focused on positive news out of the technology sector.
The Dow Jones industrial average (INDU) rose 50 points, or 0.4%, to 12,221. The S&P 500 (SPX) index climbed 4.1 points, or 0.3%, to 1,313.80; and the Nasdaq Composite (COMP) gained 6.6 points, or 0.2%, to 2,743.
For the week, the Dow rose more than 3% while the S&P 500 gained 2.7% and the Nasdaq surged 3.7%. It was the best weekly performance for the Dow since mid-July.
Tech stocks were among the biggest movers. Shares of Oracle (ORCL, Fortune 500) gained 1.5%, after the software company reported results late Thursday that were mostly in line with expectations. Dow component IBM (IBM, Fortune 500) closed up 1.5%. IBM, like Oracle, is a big seller of software to businesses.
The earnings news helped offset what was generally an uneventful day for the market.
"No news is good news these days," said Daniel Morgan, portfolio manager with Synovus Trust Company.
Though unrest in the Middle East and Libya is spreading and Japan continues to deal with the effects of an earthquake, U.S. stocks still performed extremely well this week.
"The market looked for an excuse for a correction, and got one in the Libya unrest and Japanese earthquake. But I suspect now we'll continue to trend higher," said Harry Clark with Clark Capital Management.
Mostly positive earnings news from the technology sector boosted U.S. stocks on Thursday as well.
Economy: Investors reacted little to the third and final reading of fourth-quarter U.S. GDP, which showed an annual growth rate of 3.1%, up from a prior estimate of 2.8%.
The University of Michigan consumer sentiment survey for March came in at a reading of 68.2, in line with economists' expectations.
Companies: Research in Motion (RIMM) shares plunged more than 11% after the BlackBerry maker gave weak guidance late Thursday.
Electronics retailer Best Buy (BBY, Fortune 500) was among the worst performers in the S&P 500, falling 3% after Wall Street analysts downgraded the company following its earnings report earlier this week.
Shares of Darden Restaurants (DRI, Fortune 500), operator of Red Lobster and Olive Garden, dropped 5% despite the fact that the company's earnings beat analyst estimates. Darden hinted that rising food costs could be a problem down the road.
World markets: European stocks closed higher. Britain's FTSE 100 ticked up by 0.3%, the DAX in Germany gained 0.2% and France's CAC 40 rose 0.1%.
Asian markets ended the session higher. The Shanghai Composite, the Hang Seng in Hong Kong and Japan's Nikkei all gained about 1.1%.
Currencies and commodities: The dollar rose against the euro, the Japanese yen and the British pound.
Oil for May delivery fell 8 cents at $105.52 a barrel.
Gold futures for April delivery dropped by $8.70, or 0.6%, to $1,426.20 an ounce.
Bonds: The price on the benchmark 10-year U.S. Treasury fell, pushing the yield up to 3.40% from 3.39% late Thursday.