Oil prices bounce back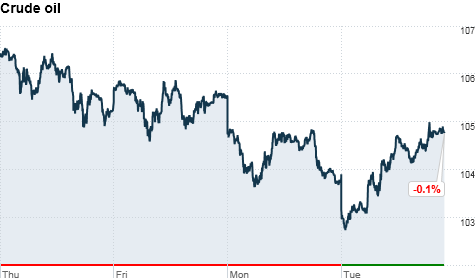 NEW YORK (CNNMoney) -- Oil prices rose Tuesday, erasing earlier losses, as investors remain focused on geopolitical risks and the outlook for global energy demand.
The main U.S. oil futures contract, West Texas Intermediate, settled 81 cents higher at $104.79 a barrel. Earlier, prices slid to a one-week low of $102.70 a barrel.
Meanwhile, brent crude -- the European benchmark -- gained 45 cents to $115.25 a barrel.
Oil prices were under pressure earlier Tuesday, following declines in the previous session, as opposition fighters in Libya regain control of cities and key oil installations in Africa's third-largest crude producer.
But prices firmed, after Secretary of State Hillary Clinton said military action against forces loyal to Moammar Gadhafi will continue until the Libyan leader, "ceases his attacks on civilians."
Speaking in London, after meeting with a leader of the Libyan opposition, Clinton called on Gadhafi to pull his troops back from places they have forcibly entered, and allow "key services and humanitarian assistance to reach all Libyans."
The United Nations-backed bombing of Gadhafi's forces "prevented a potential massacre," she said.
Aside from supply jitters, investors are keeping an eye on domestic issues as well, including the outlook for consumer spending in the United States.
A key index of consumer confidence fell in March as households anticipate further increases in gas and food prices.
Retail gas prices edged higher Tuesday for the seventh day in a row. The national average price for a gallon of regular gasoline increased overnight by three tenths of a cent to $3.587, according to a daily survey from motorist group AAA.
To be sure, gas prices typically rise in the months leading up to the summer driving season. But the volatile political situation in North Africa and the Middle East has driven oil prices up some 10% so far this year, pushing gas prices above $4 a gallon in some U.S. states.
And analysts warn that oil amid gas prices could move even higher if the turmoil accelerates in strategically important nations like Yemen, Syria and Bahrain.
"Investors should remain cautious, as there is so much uncertainty in the markets at the moment," Myrto Sokou, an energy analyst at Sucden Financial, wrote in a research report.
In addition to political risks in the Middle East, investors are also worried about energy demand in Japan, the world's third-largest economy, following the March 11 earthquake and tsunami.
While oil consumption could strengthen in Japan as it rebuilds, analysts say the short-term outlook is far from certain.
-- The CNN Wire Service contributed to this report.