BP shares slip amid talk of criminal charges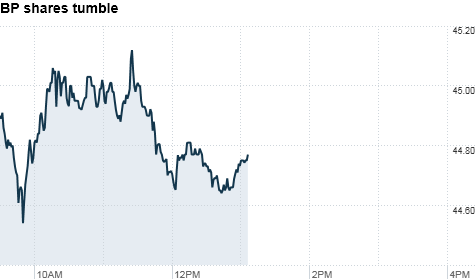 NEW YORK (CNNMoney) -- Shares of BP sank more than 2% Tuesday after the stock was downgraded and a report that federal authorities are considering charging company managers with manslaughter in connection with last year's disaster in the Gulf of Mexico.
U.S.-listed shares of the London-based oil and gas company were down $1.16, or 2.5%, at $44.86 apiece. Earlier, the stock fell to a low of $44.52.
The stock came under pressure after analysts at Collins Stewart cut their rating on BP to "sell" from "hold." In the research report, the analysts wrote that uncertainty surrounding the company's joint venture in Russia is "likely to overhang sentiment toward the company for some while."
But the stock was also hit by a report that federal investigators are considering charging BP managers with manslaughter for decisions made before the tragic explosion on the Deepwater Horizon drilling rig, which killed 11 workers nearly a year ago.
Prosecutors are looking into statements made by BP executives, including former chief executive Tony Hayward, during congressional hearings last year on the ensuing oil spill, sources told Bloomberg.
BP (BP) declined to comment on the report. The Justice Department declined to comment on its investigation.
"The idea that BP could be charged with manslaughter is spooking the market," said Stacy Hudson, an analyst at Raymond James. "That's the main reason the stock is down today."
She said a criminal charge could be difficult to prove, since it may depend on whether BP employees were guilty of gross negligence. "I think the reaction today is a bit overblown," said Hudson.
Still, other experts say BP employees could be charged with manslaughter without being guilty of gross negligence.
"In general, a manslaughter charge is not going to require any intent except negligence or recklessness," said Tampa attorney Mark Rankin, a former federal public defender and specialist in charges of manslaughter.
While statutes vary from state to state, Rankin said that "anyone at the company responsible for negligent or reckless decisions related to safety on that rig could face criminal charges for that."
In addition, he said BP could face criminal charges if the government can prove that an employee disregarded the company's own policies after being cited for safety issues.
But prosecutors should consider the possible ramifications before filing criminal charges against BP, said Anthony Michael Sabino, a professor of business at St. John's University in New York and a former energy industry executive.
"Criminal negligence is far removed from ordinary, even gross, negligence," he said. If prosecutors act, he said, they should have "substantial proof before they bring such a serious charge."