Stocks hesitate as investors sit tight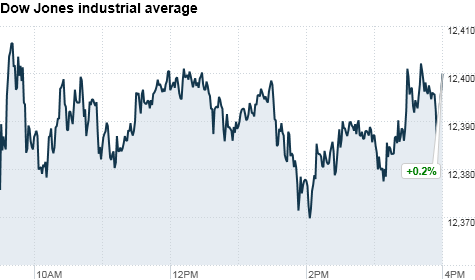 NEW YORK (CNNMoney) -- U.S. stocks closed effectively unchanged on Monday as investors took a wait-and-see approach about the economy.
The Dow Jones industrial average (INDU) rose 23 points, or 0.2%, to 12,400; the S&P 500 (SPX) index rose less than a point to 1,333, and the Nasdaq Composite (COMP) fell less than a point to 2,789.
The Dow was led higher by shares of General Electric (GE, Fortune 500), which rose 1% after a Sunday article in Barron's -- citing a Citigroup analyst -- noted that GE may not be liable for financial damage in Japan's nuclear crisis. Johnson & Johnson (JNJ, Fortune 500) and Wal-Mart (WMT, Fortune 500) also rose more than 1%.
Technology shares were the biggest drag on all three major indexes, with Intel (INTC, Fortune 500) shares down 1%, Nvidia (NVDA) shares down 4%, and Hewlett-Packard (HPQ, Fortune 500) shares down more than 1%.
But overall, Monday's session was quiet. Trading volume was light at 3.2 billion shares compared with the 5.2 billion shares typically traded. Investors also had no major economic or company reports to work with.
"We could see the market trend slightly higher this week following last week's jobs report, but movement will be limited because of the lack of economic data," said Peter Cardillo, chief market economist with Avalon Partners.
Cardillo said he expects stocks to trade closely with the price of oil, which rose above $108 a barrel.
First-quarter earnings reports start coming later this month, something analysts said should help the market move higher in the near term.
"It's going to be a lot of 'wait and see' until earnings season starts, but I think the general bias for the market is to the upside," said Kate Warne, investment strategist with Edward Jones. "This market has shown a lot of resilience this past few months."
Economy: Chairman Ben Bernanke was scheduled to speak on "Clearinghouses and Financial Stability" at a financial markets conference in Atlanta at 7:15 p.m. ET.
Investors will also listen for comments from Atlanta Fed President Dennis Lockhart and Chicago Fed President Charles Evans, who were scheduled to speak during the day.
With food and energy prices surging over the last two months, investors have wondered if the Fed will consider raising interest rates to combat inflation sooner rather than later.
They will be looking for hints from Fed officials this week, especially as its overseas counterpart, the European Central Bank, meets Thursday to discuss a change in its monetary policy.
"The inflation issue is going to be a thought on people's minds," said Mike Wall, CEO of Wall Financial Group.
Companies: Southwest Airlines (LUV, Fortune 500) shares fell 2%. The Texas-based airline canceled about 600 flights over the weekend after a hole opened on top of a Boeing 737-300 mid-flight Friday.
Pfizer (PFE, Fortune 500) shares rose 0.8% after the drugmaker announced it will sell its Capsugel capsule-making unit to Kohlberg Kravis Roberts (KKR) for $2.38 billion in cash.
World markets: European stocks closed mixed. Britain's FTSE 100 gained 0.1%, the DAX in Germany was unchanged and France's CAC 40 fell 0.3%.
Asian markets ended higher. The Hang Seng in Hong Kong rose 2.7% and Japan's Nikkei ticked up 0.1%, while the Shanghai Stock Exchange was closed for a holiday.
Currencies and commodities: The dollar rose against the euro, and fell versus the Japanese yen and the British pound.
Crude oil for May delivery rose 36 cents to $108.30 a barrel.
Gold futures for June delivery rose $4.10 to $1,432.20 an ounce.
Bonds: The price on the benchmark 10-year U.S. Treasury rose, pushing the yield down to 3.41% from 3.45% late Friday.