U.S. factories pick up work from Japan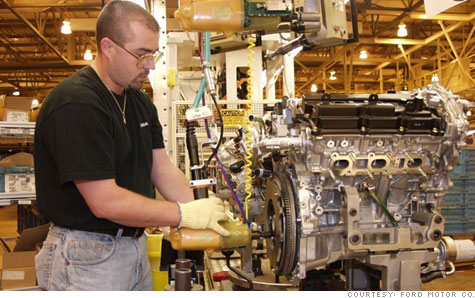 NEW YORK (CNNMoney) -- The disaster in Japan caused a number of disruptions in Japanese manufacturing after shuttered plants halted production. But some U.S. factories are stepping in to pick up the slack.
Japanese automaker Nissan (NSANY) announced last week that it will start shipping engine components from its plant in Decherd, TN, to assembly lines in Japan, -- the first time the company has exported parts from North America back to Japan.
The parts, cylinder blocks, cylinder heads and crankshafts, will replace those normally manufactured at Nissan's engine plant in Iwaki, Japan, about an hour from the crippled nuclear power plant. That plant, which was damaged last month, has yet to resume even partial operation and it could be months before it returns to normal operations.
Computer chips are another product likely to be affected by shutdowns in Japan.
For example, Texas Instruments (TXN, Fortune 500) said that factories it operates in Dallas and Richardson, Texas, as well as in Freising, Germany will see additional production for much of this year to fill the about 80% gap caused by problems at its Miho, Japan, plant.
That plant, which before the quake produced about 10 percent of TI's output as measured by revenue, will not resume any production until mid-April, with a target to reach full production in mid-July. Full shipment capability won't be reached until September.
Len Jelinek, chief analyst with IHS iSupply, said the process of restarting chip plants will be a slow one due to the sensitive equipment required.
"The worst case would be 12 months [for Japanese chip plants] to return to normal," he said.
And Jelinek said that a number of Japanese companies are also likely to shift production overseas while they work to get chip-fabricating factories back online.
But most of the shift in production will likely be short-term, once the damaged plants are repaired, according to Jelinek.
"Japanese companies favor purchasing from other Japanese companies," he said. "As soon as the facilities are up and operational, every opportunity will be made to bolster the economy by using the Japanese product."
The damage caused by the disaster has also increased demand for plywood and other building materials, while at the same time damaging many of the nation's plywood factories.
Hakan Ekstrom, president of Wood Resources International, a consulting firm, said he expects a large increase in shipments of engineered wood products such as plywood to Japan to help with immediate repair needs.
A surge in lumber and log shipments to Japan is likely to start in about six months, when reconstruction efforts move forward. But Ekstrom said that still won't make up for weak demand in U.S. home building.
Louisiana-Pacific (LPX) said its plywood plant, in Golden, British Columbia, is now sold out through June because of a surge in orders from Japan.
Most U.S. wood product plants aren't certified to ship to Japan, which has strict standards on wood imports. But Bruce Amundson a spokesman for Weyerhaeuser (WY, Fortune 500), said there have been discussions about Japan temporarily loosening import standards to allow greater access to U.S. exports, though so far nothing has changed.
"Things are in a holding pattern right now as the Japanese work through a lot of recovery efforts," he said.