'Why can't you just stay home and make soup?'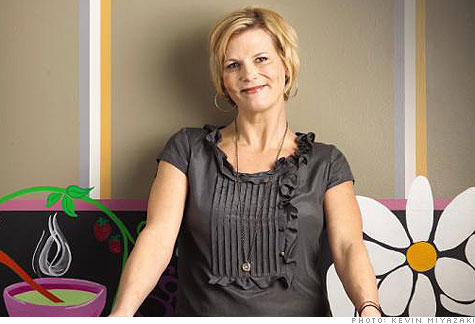 (MONEY Magazine) -- Susan Bukacek's business idea sprang from the lips of her daughter Helena, then 5, one day in fall 2009. "Why can't you just stay home and make soup?" the little girl begged.
At dinner the night before -- at which Bukacek served homemade soup -- the divorced mother of three had shared what she thought was good news: Two months after being laid off, she'd found a job.
But when the kids heard she'd be commuting three hours a day and hiring a nanny, she says, "they were not excited."
Her daughter's plea got the avid home cook thinking about alternatives. Two days later, she began hunting for retail space.
The Soup, which opened last September, serves five options a day (one unusual recipe: Corona Beer Cheddar).
At its current pace, the six-employee shop should gross $200,000 in 2011, Bukacek says, adding, "sometimes I have to sit back and let myself feel the awe."
How she's doing it
1. By borrowing smart.
She funded the startup with loans of $140,000, using her home and stocks as collateral. Working with an accountant, she created a plan to pay off the debt within 36 months. Until then, she's halted college savings and cut back on spending.
2. By hunting bargains.
She bought a rundown building for $76,000, then got her uncle, a retired mason, to oversee renovations. Bukacek also purchased equipment at auctions and furniture from rummage sales: "I got everything for pennies on the dollar."
3. By stretching her severance.
Bukacek, who had formerly earned $100,000 a year, got $40,000 in her exit package. Along with child support, this has largely covered the family's living costs. Next year she hopes to pay herself at least $50,000.