Gold, silver and oil: The rally is back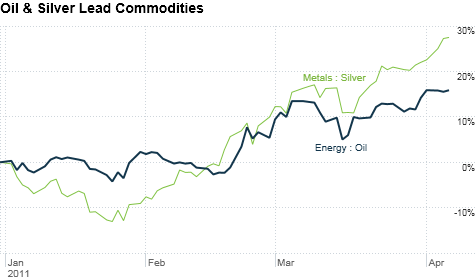 NEW YORK (CNNMoney) -- Oil, gold and silver have been hitting new highs and experts expect the momentum to continue.
A combination of a weaker dollar, geopolitical turmoil and general fears about inflation will keep commodities elevated for the next several months, say analysts.
For the third day in a row, gold hit a new record high Thursday, rising to $1,466.50 an ounce, and analysts say the yellow metal could climb over $1,550 an ounce in the near term. Gold settled at a record high of $1,458.50 an ounce Wednesday.
Worries about inflation have reared their ugly head again this week.
Early Thursday, the European Central Bank raised rates for the first time since July 2008, in an effor to keep a lid on rising energy and food prices. The move comes one day after China's central bank raised interest rates for the fourth time this year, in part to combat the country's own inflationary problems.
The worries have been exacerbated by the latest Fed minutes, which showed central bank officials at odds about rising prices. That could signal an interest rate hike sooner rather than later.
Unless that happens or the geopolitical situation actually stabilizes, gold prices will probably keep rising, said Carlos Sanchez, a precious metals analyst with the CPM Group.
"You still have several issues supportive of gold: the resurfaced sovereign debt issues in Europe particularly in Portugal, concerns about inflation, the U.S.'s fiscal trouble and a weak dollar," Sanchez said.
Sanchez expects gold prices to rise to as much as $1,550 an ounce in the next couple months. Other analysts are more bullish with Deutsche Bank analysts saying they expect gold to strike $2,150 an ounce by the end of 2012.
It's not just gold. Silver has been on tear of its own, climbing at more double the pace than gold this year to hit a 31-year high this week. But some analysts believe that silver is due for a retreat, saying the recent investor interest in "gold's poorer cousin" suggest the market is overbought.
"Should [retail investor] appetites wane, prices are likely to suffer from a sharp correction," analysts with Barclays Capital wrote in a client note.
Energy: Crude oil is a slightly different case, having been driven higher by more fundamental reasons, such as unrest and chaos in the Middle East and North Africa.
Oil prices are now sitting at a two-and-a-half year high, having jumped over the $109-a-barrel mark this week.
Traders said they expect prices to continue to rise, partly because of ongoing turmoil in Libya combined with the expected increase in demand for oil for this upcoming summer driving season.
Before Libya fell into civil war, the North African country produced between 1.2 million and 1.4 million barrels a day of light, sweet crude. OPEC countries like Saudi Arabia are attempting to make up for the loss of production, but that takes time.
While Libya produced only a small percentage of the 30 million barrels a day of oil produced by OPEC, Libya's oil reserves consist of mostly high-quality light, sweet crude oil that is easier to refine than the oil from other countries.
"Initially when Libya's production went down, the oil market could get by without, but now the loss of Libya's production is beginning to bite," said Andrew Lebow, a broker with MF Global. "There's no shortage of crude at the moment, but there's certainly a tightness of supply of light, sweet crude oil."
Lebow said he believes oil is overbought at these levels, but the underlying fundamentals for the commodity remains bullish.
Unless American consumers drastically cut their gasoline consumption this summer in response to higher oil prices, which so far appears doubtful, oil will remain above $100 a barrel, Lebow said.