Stocks end week mostly lower as oil prices surge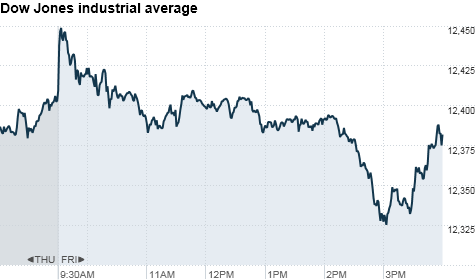 NEW YORK (CNNMoney) -- U.S. stocks fell on Friday as oil and gold prices spiked and investors awaited news about the pending government shutdown.
The Dow Jones industrial average (INDU) fell 29 points, or 0.2%, to 12,380. The S&P 500 (SPX) fell 5.4 points, or 0.4%, to 1,328, and the Nasdaq Composite (COMP) lost 16 points, or 0.6%, to 2,780.
Both the S&P and the Nasdaq ended the week down slightly more than 0.3%, snapping a two-week winning streak, while the Dow managed to squeak out a gain.
Commodities and materials stocks were among the strongest performers, with shares of Occidental Petroleum (OXY, Fortune 500) and Murphy Oil (MUR, Fortune 500) up more than 5% each as oil rallied.
Oil prices surged over $113 a barrel Friday, a day after Japan was hit with another earthquake, rising more than 4% this week. At the same time, the price of unleaded gasoline rose 1.4 cents overnight to a nationwide average of $3.74, according to motorist group AAA.
Fund managers are becoming increasingly worried about the recent run-up in the price of oil, particularly as the U.S. economic recovery remains delicate at best.
"Oil prices were making me nervous a month ago, but now oil has become a critical issue," said Jack Ablin, chief investment officer with Harris Private Bank.
Precious metals also rallied, with gold going above $1,473 an ounce. Silver prices rose to more than $40 an ounce.
Wall Street is also bracing for the start of first-quarter earnings with results from Alcoa (AA, Fortune 500) on Monday.
"I can't remember entering an earnings season, where investors had such divergent views on the state of Corporate America," Ablin said. "Some say corporate earnings remain strong, while others are worried that commodities are going to start pressuring profit margins."
U.S. stocks fell slightly Thursday, recovering the bulk of an earlier sell-off that was sparked by a second Japanese earthquake.
Government shutdown The federal government faces a shutdown unless Congress and the White House reach agreement on a budget for the remainder of fiscal 2011 by midnight ET.
Negotiators worked Friday on a spending plan for the rest of the current fiscal year, after a fourth White House meeting in 48 hours between President Obama and congressional leaders failed to reach an agreement.
"Markets believe that cooler heads will prevail and that people in Washington aren't dumb enough to cut their heads off, which means that markets haven't met too many people in Washington," said David Wyss, chief economist for Standard & Poor's.
The Securities and Exchange Commission said Thursday that in the event of a shutdown, the SEC will function with "an extremely limited number of staff," and only basic investor services will be available.
The SEC will continue to accept securities filings, but available services related to filings will be limited. The SEC also said it will continue to investigate fraud and securities violations, but may only be able to respond to a limited number of incidents.
Companies: Shares of Expedia (EXPE) surged more than 13% after the travel site operator announced late Thursday that it planned to split itself into two companies. One will be for TripAdvisor and another for its other Expedia businesses, which include Hotels.com and Hotwire.
Seagate Technology (STX) shares jumped nearly 8% after the company said late Thursday it will begin paying a dividend for the first time.
Economy: The Commerce Department said wholesale inventories rose 1% in February, in line with economists' expectations.
World markets: European stocks rose modestly as investors await word of a possible bailout package for Portugal. Britain's FTSE 100 added 0.8%, the DAX in Germany rose 0.5% and France's CAC-40 gained 0.8%.
Asian markets ended higher, as stocks rallied from Japan's 7.1-magnitude earthquake Thursday. The Shanghai Composite rose 0.7%, the Hang Seng in Hong Kong ticked up 0.5% and Japan's Nikkei rallied 1.9%.
Currencies: The dollar fell against the euro and the British pound, but gained versus the Japanese yen.
Bonds: The price on the benchmark 10-year U.S. Treasury fell, pushing the yield up to 3.59% from 3.55% late Thursday.