'Big ugly' banks left out of market rally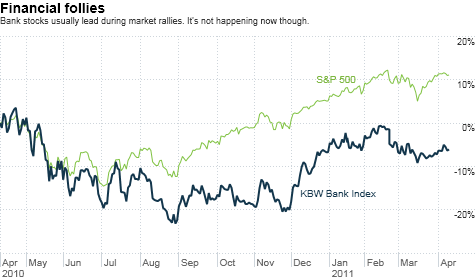 NEW YORK (CNNMoney) -- So much for the notion that financial stocks need to rally in order for the entire market to head higher.
Sure, stocks are doing quite well this year despite all the global turmoil. But while the S&P 500 (SPX) has gained nearly 6%, the KBW Bank Index (BKX), which tracks 24 large banks, is flat.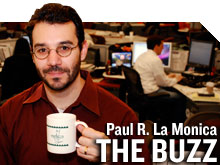 At first blush, it's a bit odd that banks have been market pooches. Merger activity is heating up and initial public offerings are making a comeback. That should bring huge advisory fees for the larger banks.
The job market is slowly but steadily improving, which should lead to better credit quality for consumer loans.
David Katz, president and chief investment officer with Matrix Asset Advisors in New York, said all this is good news for bank stocks -- and that it is not reflected in their stock prices.
However, there are several reasons why banks have lagged. Tom Villalta, co-manager of the Jones Villalta Opportunity Fund (JVOFX) in Austin, Texas, noted that investors are still worried about what impact increased government regulation will have on the group.
Villalta -- whose fund owns stakes in Citigroup, JPMorgan Chase, Bank of America, Goldman Sachs and Wells Fargo -- said it is "surprising" that financials have underperformed at a time when the U.S. economy seems to be improving.
But banks have a chance to prove that they are worthy of assuming a market leadership role this week. Two of the nation's biggest lenders, JPMorgan Chase and Bank of America, are on tap to release their first-quarter results.
"The first-quarter results may serve as a catalyst for the group," said Frank Barkocy, director of research with Mendon Capital Advisors in New York. He noted that asset quality and, to a smaller extent, loan demand are improving.
JPMorgan Chase (JPM, Fortune 500), which was viewed as one of the stronger banks throughout the financial crisis, is expected to report solid profit growth. Analysts are forecasting an earnings-per-share increase of nearly 57%.
It's interesting that the recent controversy surrounding the bank -- a big payout to CEO Jamie Dimon for moving expenses and the bank's wrongful foreclosures on military families -- does not appear to be impacting profit. Or the stock for that matter. JPMorgan Chase shares are actually up 11% this year.
But BofA (BAC, Fortune 500), which was one of the biggest recipients of government aid during 2008 and 2009, is still struggling. Earnings are expected to be flat.
Adding insult to injury, BofA was the only large bank that publicly admitted it was not given permission by the Federal Reserve last month to raise its dividend.
Several rivals, including JPMorgan Chase, Wells Fargo (WFC, Fortune 500), U.S. Bancorp (USB, Fortune 500) and BB&T (BBT, Fortune 500), all rushed to raise their payouts. But BofA is stuck with its middling penny-per-quarter dividend until further notice. Shares of BofA are up less than 2% in 2011.
That trend -- "good" banks outperforming and "bad" banks lagging -- may continue.
Shares of Citigroup (C, Fortune 500), for example, are down 4% this year. The bank, which like BofA received "exceptional assistance" from the government during the recession, is even resorting to a reverse stock split to pump up its stock price.
Villalta conceded that it's hard to get "super-enthusiastic" about Citi in light of the consolidation. Reverse splits are often a desperation move by companies whose stock price remains stuck below $5 for an extended period of time.
Barkocy said BofA and Citi might be tempting bargains now. But he thinks other big banks -- such as JPMorgan Chase, U.S. Bancorp, PNC (PNC, Fortune 500) and Comerica (CMA) -- are better bets.
However, Katz said some of what he calls the "big uglies" -- a group that includes BofA and Wells -- should perform better as the year progresses, since they have mostly cleaned up their balance sheets. He owns those two stocks, as well as JPMorgan Chase, in the Matrix Advisors Value Fund (MAVFX).
Katz said he's largely avoiding regional banks because he feels they still have a lot of work to do to get their loan portfolios and credit quality in shape. The only regional he owns is BB&T.
Still, it may be tough for the banks to rally as long as they are loathed by so many. Sure, most investors don't make their decisions based on social reasons. But it's hard to ignore the unrelenting drumbeat of bad press.
Villalta said that for the whole group, public relations nightmares play (and may continue to play) a role in holding the stocks back. Going back to when banks started getting bailed out in 2008, there has been a steady stream of news that casts the sector in an unflattering light.
The return of big bonuses, fraud charges against Goldman Sachs (GS, Fortune 500) and the robo-signing foreclosure scandal are just a few of the negative headlines over the past few years.
"Given the depth of the financial crisis, the relative disdain people have for financial companies casts a pall over the entire industry," Villalta said. "They are easy targets for regulators and general unease among investors."
-- The opinions expressed in this commentary are solely those of Paul R. La Monica. Other than Time Warner, the parent of CNNMoney, and Abbott Laboratories, La Monica does not own positions in any individual stocks.