U.S. issues passports to thousands of tax cheats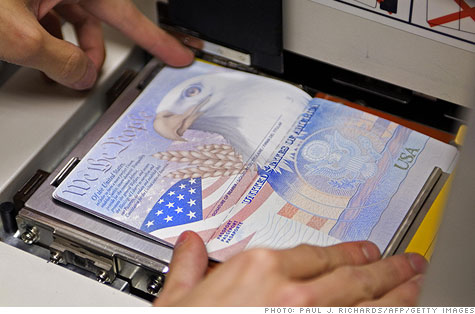 NEW YORK (CNNMoney) -- The State Department is issuing passports to people who collectively owe billions of dollars in back taxes -- and can't do anything about it, according to a Congressional watchdog agency.
The Government Accountability Office says in a report of the 16 million passports issued by the State Department in 2008, 224,000 recipients owed a total of $5.8 billion in federal taxes.
The report says federal law doesn't permit the denial of passports for failure to pay back taxes. By contrast, the GAO said the government is permitted to deny passports to debtors who owe more than $2,500 in child support payments, as well as to people who owe the State Department money in certain instances.
Among the more egregious cases, according to GAO, was an unnamed gambler who owed $46.6 million. The gambler received a $2 million refund for one of his tax returns in the early 2000s, but later examinations by the Internal Revenue Service found that he owed tens of millions of dollars to Uncle Sam.
Other examples given by GAO included a World Bank employee who owed $300,000 and a contractor for the State Department who owed $100,000.
"If Congress is interested in pursuing a policy of linking federal tax debt collection to passport issuance, it may consider taking steps to enable State to screen and prevent individuals who owe federal taxes from receiving passports," the GAO said.
But Sen. Charles Grassley, an Iowa Republican who sits on the tax-monitoring Senate Finance Committee, said that interfering with the issuance of a passport because of back taxes raises issues with taxpayer privacy.
"It's disturbing to see jet-setting gamblers and Ponzi schemers getting U.S. passports when they owe millions of dollars in taxes," Grassley said in an e-mail statement to CNNMoney. "At the same time, there's a longstanding precedent of taxpayer privacy and freedom to travel that Congress would need to study carefully before changing."
"Getting a U.S. passport is a privilege. But tax privacy has to be protected because tax information has been abused in the past," Grassley said.