Stocks taking cue from JPMorgan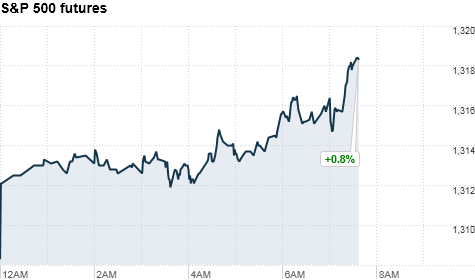 NEW YORK (CNNMoney) -- U.S. stocks were poised for gains Wednesday after JPMorgan Chase reported solid earnings, but cautioned that mortgage losses would continue.
Dow Jones industrial average (INDU), S&P 500 (SPX) and Nasdaq (COMP) futures were all more than 0.7% higher ahead of the opening bell. Futures measure current index values against perceived future performance.
The first major bank to report quarterly results, JPMorgan Chase (JPM, Fortune 500) announced a 70% jump in first-quarter net income to $5.6 billion, or $1.28 per share, beating analysts' forecasts for $1.16 per share.
Revenue slipped to $25.8 billion from a year earlier but still edged above analysts' predictions.
CEO Jamie Dimon called it a "strong quarter," but pointed out that the bank is still hurting from "extraordinarily high losses" from mortgage-related issues. "Unfortunately, these losses will continue for a while," he said in a statement.
Additionally, bankers from the investment banking giant are in line for a 34% raise this year. JPMorgan Chase shares rose 1.5% following the report.
"The banks continue to heal, and I think that will be greeted pretty well this morning," said Jeff Layman, chief investment officer of BKD Wealth Advisors in Springfield, Mo.
Later Wednesday, investors will also get the latest details on spending cuts, as President Obama lays out his long-term deficit reduction plan in a speech at George Washington University at 1:35 p.m. ET.
"Everyone wants to address the deficit, but no investor wants to see their tax rate go up by 10%," Layman said. "It's pretty simple math. Either you have to cut spending -- which hurts a lot of folks -- or you have to raise revenue by raising taxes."
U.S. stocks finished lower Tuesday, with all three major indexes losing about 1%, as a 3% drop in oil prices sparked a sell-off in energy stocks, and Alcoa's sales disappointment weighed down the Dow.
Economy: Economists are continuing to scan the latest data, for the domino effect of rising prices on other areas of the economy.
An hour before the opening bell, the Census Bureau reported retail sales rose 0.4% in March. The number was slightly lower than the 0.5% increase economists expected. Stripping out gas, retail sales were only up 0.1% for the month.
"Clearly, higher commodity prices are factoring into higher retail sales," said Aichi Amemiya, economist with Nomura Securities.
Retail sales for the prior two months were revised significantly higher -- causing Nomura to raise it's daily-revised estimates for first quarter growth to 2.3%, from 2.1% before.
The latest business inventory numbers will be released at 10 a.m. ET from the Census Bureau. Companies are expected to have boosted their inventories by 0.8% in February.
In the afternoon, the Federal Reserve will release its Beige Book. The report is a collection of regional observations on the U.S. economy by the Federal Reserve's 12 regional banks.
Companies: Shares of Tyco International (TYC) fell more than 1.8% in premarket trading, after French company Schneider Electric denied reports that it is trying to buy the Swiss manufacturing conglomerate for $30 billion.
World markets: European stocks rose in morning trading. Britain's FTSE 100 and the DAX in Germany both gained about 1%, while France's CAC 40 rose 0.8%.
Asian markets ended higher. The Shanghai Composite rose just under 1%, the Hang Seng in Hong Kong added 0.7% and Japan's Nikkei rose 0.9%.
Currencies and commodities: The dollar fell against the euro and the British pound, but rose against the Japanese yen.
Oil for May delivery gained 41 cents to $106.66 a barrel.
Gold futures for June delivery rose $7.60 to $1,461.20 an ounce.
Bonds: The price on the benchmark 10-year U.S. Treasury fell, pushing the yield up to 3.53% from 3.50% late Tuesday.