How to find hidden airfare deals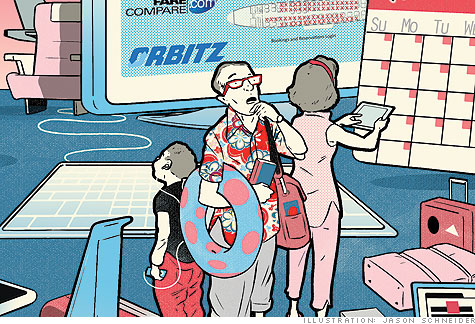 (MONEY Magazine) -- If you're looking to get away this summer, brace yourself: Airfares are likely to be 10% to 15% higher than last year, warns Rick Seaney, CEO of FareCompare.com.
Airlines have been hiking prices in response to escalating fuel costs and seat demand.
Making matters worse, a few carriers have been withdrawing flights from popular online ticketing sites.
So the old rules of fare shopping are out the window just when you need them most.
Luckily, some of the country's top airfare experts have already found work-arounds that net serious savings. Their advice follows.
Old rule: Shop one of the major online travel agencies, like Expedia or Orbitz.
New rule: Instead start your search with Kayak.com, Fly.com, and TripAdvisor.com, meta-search engines that aggregate fares from a number of sources and direct you to sites where you can buy them.
The old logic was to search one of the online travel agencies (OTAs) -- such as Expedia and Orbitz -- that sell tickets and get commissions from airlines.
The sites had provided a fairly comprehensive fare search, but that's no longer certain: Displeased with how certain sites were displaying its fares, American Airlines withdrew from Orbitz, Expedia, and Hotwire over the past six months (though it rejoined forces with Expedia and Hotwire in early April).
Similarly, Delta severed ties with CheapOair, BookIt.com, and others. Plus, airlines are now sometimes besting the OTAs.
Therefore, the meta-engines, which show fares from OTAs and the airlines' sites, offer a more exhaustive search.
Caveats: You'll need to search all three meta-engines, because they cover different OTAs. And you'll still have to look at a few airline sites individually: Southwest, Allegiant, and Vision don't play nice with meta-engines or OTAs.
Old rule: If you spy a good fare, jump on it immediately.
New rule: Be picky about when you buy, using tools that help you find the best time.
For starters, search your route on Bing.com/travel. The site's Price Predictor function crunches data about fare history to determine whether prices are likely to head up, go down, or hold steady -- plus it gives you a percentage of confidence for the prediction.
Bing's predictions aren't perfect, but if there's more than a 70% chance that fares will fall, you might take the gamble and wait.
In the meantime, sign up for e-mail alerts from TripAdvisor.com: You'll be contacted once the price falls below a number you specify.
Also follow on Twitter any carriers that travel nonstop to your destination. Many major airlines tweet "flash sales" that are available only for a short time, notes George Hobica, founder of Airfarewatchdog.com; the deals may be gone by the time you're e-lerted.
Caveats: No matter what the tools say, book no fewer than 60 days ahead or you risk paying significantly more, says Ike Anand, director of airline analysis for Expedia.
Old rule: Be loyal to one airline so that you can rack up frequent-flier points.
New rule: The price isn't low enough for you at the 60-day mark? Shop for an "opaque fare" -- that is, one in which you don't know the airline, the departure time, or the number of stops until you buy. While these fares aren't new, few people use them.
Given the potential savings -- 25% to 50% off published fares -- they're worth a serious look now. Find them on Priceline.com's Name Your Own Price, Hotwire.com's Hot Rates, or Expedia.com's Bargain Fares.
Caveats: Flights can leave anytime between 6 a.m. and 10 p.m. and may include a layover. And you won't earn frequent-flier miles for your itinerary.