Stocks: Earnings, economy, Europe in focus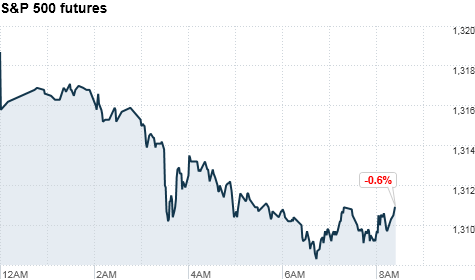 NEW YORK (CNNMoney) -- U.S. stocks were poised to start Monday in the red, as investors faced new concerns about the global economy, while awaiting quarterly results from more than 110 members of the S&P 500 this week.
Dow Jones industrial average (INDU), S&P 500 (SPX) and Nasdaq (COMP) futures were down about 0.6% ahead of the opening bell. Futures measure current index values against perceived future performance.
Analysts say earnings and economic reports are front and center on investors' minds. And issues across Europe -- a downgrade of Irish banks and a victory by the anti-bailout True Finns party in Finland -- are, once again, weighing on sentiment. Reports that Greece may be seeking a debt restructuring and news of a policy change in China weren't helping either.
"There's a combination of a little things that have people just locking in some profits," said T.C. Robillard, senior research analyst at Signal Hill.
U.S. stocks finished last week lower as concerns about corporate results plagued the market.
World markets: Early Monday, Ireland suffered another blow in its debt crisis when Moody's Investors Service downgraded the ratings on Irish banks to junk status.
Finland's True Finns party, which opposes European Union bailouts, won significant ground in the country's coalition government. Their success in the election could be seen as another hurdle facing the EU, as it considers more bailout loans for Portugal.
European stocks fell in morning trading. Britain's FTSE 100 slipped 1%, the DAX in Germany fell 1.2% and France's CAC 40 lost 1.4%.
Over the weekend, finance ministers from 20 of the world's largest economies agreed on guidelines for measuring global imbalances.
On Sunday, China's central bank announced that it is once again raising the amount of capital it requires banks to hold in their reserves, as a way to limit lending and curb rapid inflation in the country.
Asian markets ended mixed. The Hang Seng in Hong Kong fell 0.7% and Japan's Nikkei slipped 0.4%, while the Shanghai Composite rose 0.5%.
Companies: Former Dow component Citigroup (C, Fortune 500) reported earnings per share of 10 cents, slightly better than forecast. The bank's revenue rose 7% to $19.7 billion, just missing expectations. But credit losses narrowed for the seventh consecutive quarter, helping lift Cit's shares 0.6% in premarket trading.
"Looking back on the first quarter, we saw very anemic performance from the U.S. consumer," said Bruce McCain, chief market strategist with Key Private Bank in Cleveland. "The earnings season will be a lot more intently examined because of that."
Drug maker Eli Lilly (LLY, Fortune 500) and oil services company Halliburton (HAL, Fortune 500) both posted results early Monday that topped analysts' forecasts, and their shares were up more than 1% in premarket trading.
Newspaper chain Gannett (GCI, Fortune 500) reported earnings per share in line with estimates, but fell slightly short on revenue. Chip maker Texas Instruments (TXN, Fortune 500) will report after the bell.
Economy: The National Association of Home Builders will release its Housing Market Index at 10 a.m. ET. Economists are expecting the report to show homebuilder sentiment remained pessimistic in April, keeping the index unchanged at 17 points.
Currencies and commodities: The dollar rose against the euro and the British pound, but fell versus Japanese yen.
Oil for May delivery slipped $1.34 to $108.32 a barrel.
Gold futures for June delivery fell $5 to $1,481 an ounce, after rising to an intraday record of $1,489.70 earlier in the morning.
Bonds: The price on the benchmark 10-year U.S. Treasury rose, pushing the yield down to 3.38% from 3.41% late Friday.