Bond market waiting for Bernanke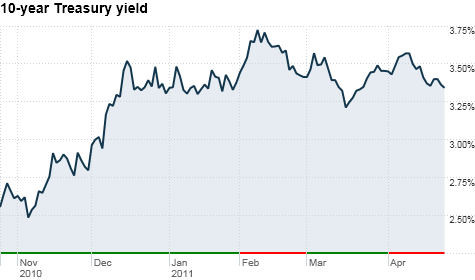 NEW YORK (CNNMoney.com) -- Bond traders are waiting to hear what Fed chairman Ben Bernanke has to say about inflation and the economy when he holds his first post-Fed meeting press conference Wednesday afternoon.
"It is going to be very important," said Mary Ann Hurley, vice president of fixed income trading at D.A. Davidson in Seattle. "Here is all this talk about Bernanke wanting to increase Fed transparency and now is the time we can see whether the Fed is transparent or not."
Most experts don't expect the Fed will raise its key lending rate, which has been sitting near 0% since December 2008. And most also don't expect the Fed to announce another stimulus plan.
The central bank's $600 billion bond buying spree, known as QE2, is coming to a close in June. The quantitative easing program is expected to wind down in an orderly fashion with not expectation of a QE3 announcement.
"They are going to be looking for further direction from the Fed post June," said Hurley.
And given the fact that this is Bernanke's first press conference of this sort, market experts say trading could be bumpy.
"Maybe he stumbles some words, maybe the market misinterprets, there is a whole spectrum of potential uncertainties," said Kim Rupert, fixed income analyst at Action Economics. "He will have to address the inflation issue with rising oil prices and commodity prices."
Bernanke's press conference also comes one day before the government reports its first reading on first-quarter gross domestic product -- the broadest measure of the nation's economic health.
A CNNMoney survey of economists predicts that the pace of growth will have slowed to just 2% in the first three months of this year. Fourth-quarter GDP was 3.1%.
A sluggish economic recovery and weak housing market have kept investors hedging their bets in the safe haven of Uncle Sam's debt. Meanwhile, ever expanding deficits combined with inflation woes have undercut the value of longer term bond investments. The result is Treasury yields mired in a tight range, with the benchmark 10-year Treasury yield hovering just under 3.5% for months.
Yields slid Tuesday as prices edged higher. The 10-year Treasury yield dipped to 3.31%, the 30-year bond fell to 4.39%, the 5-year bond ticked up to 2.02%, and the 2-year dropped to 0.62%.