Droid Charge delayed by 24-hour Verizon 4G-LTE outage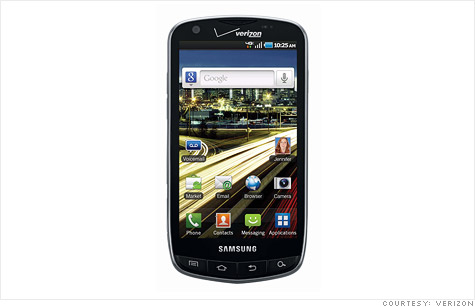 NEW YORK (CNNMoney) -- Verizon's latest 4G-LTE smartphone launch was delayed after the new, ultra-fast network suffered a major outage Wednesday and Thursday morning.
The Samsung Droid Charge, which was supposed to go on sale Thursday, was unavailable at stores or online. Verizon Wireless confirmed that the Droid Charge's availability had been delayed, but it didn't give a specific date for when it would go on sale.
The company said it would update its customers about the new smartphone's availability soon. Meanwhile, customers can provide store representatives with their contact information, and they will be notified when the phone is available for purchase, according to Brenda Raney, spokeswoman for Verizon Wireless.
The wireless giant confirmed via Twitter at 11 a.m. ET that the network was up and running. It first acknowledged the outage Wednesday morning at 9:21 a.m., also on Twitter.
The Droid Charge will be the second phone to operate on Verizon's 4G network, which was launched in November. The first phone, the HTC Thunderbolt, went on sale in March, and Verizon sold a quarter million of them in two weeks.
The launch will be closely watched by analysts, because the smartphone will retail at $300 with a new two-year contract -- $100 more than most high-end 3G smartphones.
Most of the Droid Charge's features are similar to other top-of-the-line Android-based smartphones, except that the new Samsung device has the ability to download data at a speed of 5 megabits to 12 megabits per second. That's about 10 times faster than most 3G connections.
Verizon (VZ, Fortune 500) has placed a big bet on its 4G-LTE network, building out an entirely new -- and extremely costly -- infrastructure. It's a risky gamble, since the company is requiring users to buy more expensive devices to use the new network, and 4G is not yet available in most locations.
The new 4G network only covers 46 metropolitan areas and 110 million customers, compared to the 290 million customers that receive Verizon's 3G coverage. Verizon doesn't expect 4G to reach nationwide coverage until 2013, at the earliest.
AT&T (T, Fortune 500) is also expected to launch its 4G-LTE network this year, and the company said it will be able to achieve nationwide 4G coverage if it is allowed to purchase T-Mobile. Sprint (S, Fortune 500) is widely believed to be exploring an LTE option, even as it continues to promote its 4G option called WiMax, which operates on a different network standard.
Verizon said through Twitter that it had discovered the cause of its outage, but has not yet explained the reason. While the 4G network was unavailable, customers were still able to access the 3G network, and Thunderbolt customers were still able to make phone calls.