Obama vs. business takes another sour turn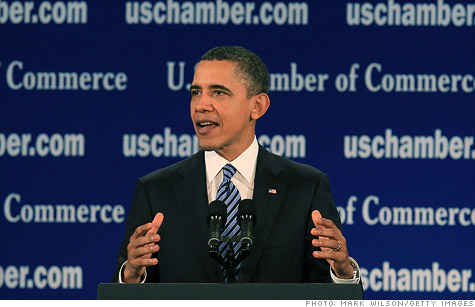 WASHINGTON (CNNMoney) -- After a high-profile effort to smooth things over with Big Business, the Obama administration has hit a bump in the road.
The reason: A new plan that would force businesses seeking federal contracts to disclose political spending.
According to a leaked draft of a presidential executive order, the White House wants would-be contractors to report when they've made $5,000 or more in campaign contributions to federal candidates. It also wants companies to reveal money spent -- and more often not disclosed -- to sway elections. The White House has confirmed the draft as authentic, but a work in progress.
The issue harkens back to the January 2010 Supreme Court ruling throwing out laws that restricted corporate and union spending on TV ads and mailers. That move opened the floodgates to more corporate spending in political campaigns but less disclosure about who was behind political messaging, according to the Center for Responsive Politics.
This week, the U.S. Chamber of Commerce and the Business Roundtable have indicated they would oppose the order that would affect those seeking federal contracts.
"This order is yet another example of regulatory overreach and redundancy that will add unnecessary cost and paperwork to business operations at the expense of workers and our economy," said Business Roundtable President John Engler in a statement. "Worse still, the president and his administration seem to be using the executive order powers for political purposes."
The Chamber said the move would violate First Amendment rights and could lead to discrimination in contract awards based on political beliefs.
"The (proposed executive order) injects a very real chance that prospective contractors that fund political causes unpopular with the government or the current administration may find that they don't get a contract award due to political discrimination," said Chamber spokeswoman Blair Latoff.
Other groups, including the National Small Business Association, are still reviewing the draft order and have yet to take position on it.
An administration official told CNN Thursday that President Obama is considering the order as a way of reforming government contracting policies to "promote accountability, transparency and competition."
The official said the thinking is that taxpayers need to be confident that federal contracting decisions are based on merit and not influenced by political favoritism.
But the White House move comes just six months after President Obama very publicly declared a do-over to mend bridges with the business community. He even recast his panel on the financial council into a jobs council, appointing business leaders such as General Electric's Jeffrey Immelt.
But business groups have declared war on the proposed move and have vowed to fight it in court, even before it's officially announced.
"We can only hope this catastrophe of an executive order will never see the light of day," Latoff said.
-- CNN White House producer Bonney Kapp contributed to this piece.