Time Warner profit slips, but revenue jumps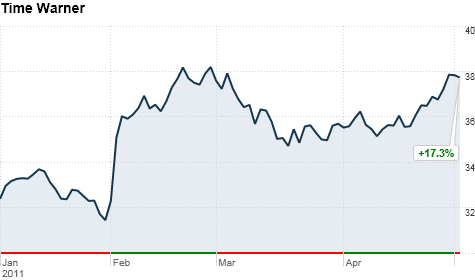 NEW YORK (CNNMoney) -- Time Warner posted a decline in first-quarter profit Wednesday, but said a surge in advertising sales boosted revenue.
The New York-based media company, the parent of CNNMoney, said net income from continuing operations was $653 million, or 59 cents per share. That was down from $725 million in the same quarter a year ago.
Adjusted operating income, a commonly used profit metric for media companies, fell 10% to $1.3 billion, or 58 cents per share. Analysts polled by Thomson Reuters were looking for earnings of 56 cents per share on that basis.
Meanwhile, Time Warner's sales rose 6% to $6.7 billion, topping analysts' forecasts of $6.4 billion.
While Time Warner's film performances struggled in the quarter, the company's advertising revenue jumped 20%.
"We're off to a solid start this year," CEO Jeff Bewkes said in a statement accompanying the earnings report, citing the better-than-expected success of the NCAA Men's Basketball Tournament on TBS, TNT and truTV, along with the popular debut of "Game of Thrones" on HBO.
"We're on track to meet our financial goals for 2011 and making a lot of progress toward our longer-term objectives," Bewkes added.
For 2011, Time Warner said it continues to expect the percentage of growth for its full-year earnings per share to be in the low teens off a 2010 adjusted EPS base of $2.41.
The company has bought back $1.3 billion in company shares so far this year, which it says is double the pace of last year.
Revenue at Time Warner's network division, which includes CNN and HBO, jumped 18%, boosted by a 31% surge in advertising revenue, a 48% increase in content revenue and a 9% rise in subscription revenue. Profit at the division rose 2%, thanks to the company's live coverage of the NCAA Tournament, which Time Warner said was the most-watched tournament since 2005.
Sales at its film business, Warner Bros., slipped 3%, as films in the quarter failed to compare to hit releases such as "Sherlock Holmes" and "The Blind Side" from the same quarter a year ago.
The company's publishing branch, Time Inc., didn't see any improvement in the quarter. Revenue was flat at $798 million, as subscription revenue fell 5%, advertising revenues were unchanged and other revenues increased 18%.
Shares of Time Warner (TWX, Fortune 500) have climbed more than 15% this year, as the advertising market continues to rebound. But shares fell 3% in early trading Wednesday following the results.
"The lack of earnings growth may be somewhat disappointing, but we think this will prove to be the least important quarter this year because of the light film slate," said Frederick Moran, media analyst at the Benchmark Company. "As it ramps up its summer season of potential hit movies, that combined with ongoing strong ad sales will allow its profitability to shine through."
That said, Time Warner is facing increasing competition from online TV and video streamer Netflix (NFLX). Time Warner has limited the content it makes available to Netflix to protect its competitive edge, but it may need to adjust its relationship as Netflix expands its audience.
"Netflix is garnering more and more attention and will have to get reckoned with at some point, but Time Warner isn't jumping into bed with them too quickly," said Moran. "Time Warner has the largest film entertainment library and paid television provider, HBO, so it wants to protect its competitive interests by giving premium content to its subscribers -- if it gives too much to Netflix, it could lose subscribers."
Bewkes said on a call with analysts that he views Netflix as complimentary, not necessarily a direct threat. He said that while the service gives consumers a "deep library of content", there will always be content that Netflix won't economically be able to offer -- so he doesn't expect a mass "cord-cutting" of TVs any time soon.
"I don't think it will upend the multi-channel TV business ... there are only four million households that have broadband but have no multi-channel TV," Bewkes said. "We don't think consumers want less choice ... things like Netflix are welcome additions to the infrastructure and likely to remain complimentary to strong multi-channel brands that are getting stronger all the time."
Time Warner is joined by a host of other media companies reporting earnings this week.
AOL (AOL) released its results Wednesday. Unlike Time Warner, AOL saw advertising revenue decline in the quarter, leading to weaker-than-expected earnings results.
CBS (CBS, Fortune 500), however, also benefited from an improving advertising market. The company posted first-quarter profit and revenue Tuesday that topped expectations. Comcast (CMCSA, Fortune 500) logged better-than-expected earnings, but revenue fell slightly short of forecasts.
News Corp. reports its first-quarter results after the close Wednesday.