AIG slips back into the red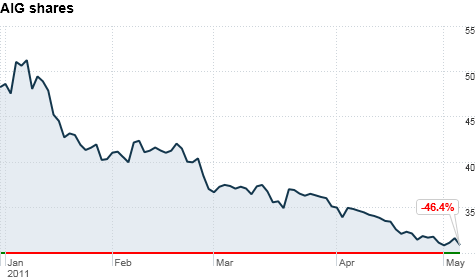 NEW YORK (CNNMoney) -- AIG reported a first quarter loss Thursday, moving the insurer back into the red after the bailout recipient showed signs of life with a strong final quarter to close out 2010.
AIG reported a loss from continuing operations of $1.41 per share for the first three months of the year, compared to a profit of $2.16 per share over the same period a year ago.
For U.S. taxpayers, the loss is bad news. Here's why: The Treasury Department owns a 92% stake in AIG (AIG, Fortune 500), the result of a 2008 bailout of the too big to fail insurer.
In 2008, the giant insurer struggled under the weight of credit default swaps issued by its Financial Products division before ending up on the receiving end of a $180 billion lifeline extended by the Feds.
AIG has returned a large chunk of that to the Treasury, raising money through asset sales. But Treasury still has $47.5 billion in cash invested in AIG through the insurer's common stock.
Due to a plunging stock price that has lost 46% of its value since the start of the year, that taxpayer investment is in danger of slipping into the red.
The breakeven stock price for that investment is around $29, just a few dollars below where the stock has been trading in recent weeks.