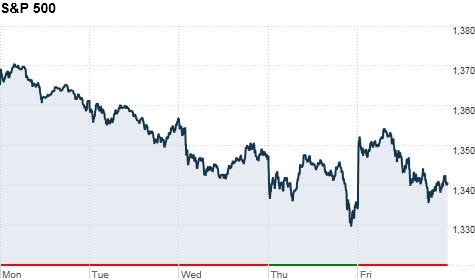 Click the chart for more market data.
NEW YORK (CNNMoney) -- A stronger-than-expected jobs report on Friday was a good coda to a week in which stocks were dragged lower by a rout in commodities.
In the week ahead, the commodities market will be in focus again. Fund managers said they welcome a fall in oil prices because of how heavily energy weighs on consumers' pocketbooks.
"Friday's jobs report and sell-off in commodities should be enough to keep this market moving higher," said Karl Mills, president and chief investment officer of Jurika, Mills and Keifer. (Check the latest commodities prices.)
Closely-watched economic numbers coming out this week include April retail sales, producer and consumer inflation figures and the first reading on May consumer confidence.
Investors will also keep an eye on the weekly initial jobless benefits report, particularly since last week's claims number jumped by 43,000, considerably worse than what economists had predicted. The claims figure helped fuel a 140 point drop in the Dow on Thursday.
"We have to see if last week's number was an abnormality," said Curvin Miller, vice president of wealth advisory firm Russell & Company.
On the Docket
Monday: Tyson Foods (TSN, Fortune 500) reports before the opening bell; analysts polled by Thomson Reuters expect the company to earn 43 cents a share.
There is no economic data scheduled for release on Monday.
Tuesday: Dow component Disney (DIS, Fortune 500) will report after the closing bell on Tuesday. Analysts polled expect the media giant to post a profit of 56 cents a share.
The Labor Department will release April import/export prices at 8:30 a.m. ET, and the Commerce Department will report on wholesale inventories at 10 a.m. ET.
Wednesday: Before the bell, department store chain Macy's (M, Fortune 500) will report on its financial performance. Analysts expect the chain to earn 17 cents a share.
Dow component Cisco (CSCO, Fortune 500) is slated to issue its results after the closing bell. Analysts expect the communications equipment maker to earn 37 cents a share.
In economic data, investors will get reports on the U.S. trade balance for March at 8:30 a.m. ET. Economists expect that the U.S. economy had a $47.8 billion trade deficit, wider than the $45.8 billion deficit reported in February.
Thursday: The Labor Department will release its producer price index for April and weekly initial jobless claims at 8:30 a.m. ET. Also coming at 8:30: A Commerce Department report on monthly retail sales.
Economists expect that weekly claims fell to 423,000 from 474,000 last week.
April retail sales are expected to have risen 0.6%, compared to March's rise of 0.4%. For producer inflation, economists surveyed expect April's PPI figure to go higher to 0.5%.
Companies scheduled to report on Thursday include department store chains Kohl's (KSS, Fortune 500) and Nordstrom (JWN, Fortune 500) along with graphics chip maker Nvidia (NVDA).
Out shortly after the bell at 10 a.m. ET are March business inventories data from the Commerce Department.
Friday: Investors will get the April consumer price index from the Labor Department at 8:30 a.m. ET, and the University of Michigan's preliminary consumer sentiment survey at 9:55 a.m. ET.
Economists expect that consumer inflation rose by 0.4% in April versus a 0.5% rise in March. Consumer sentiment is expected to remain steady at a reading of 69.8.