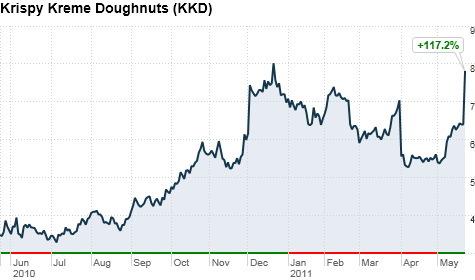 NEW YORK (CNNMoney) -- Investors have a sweet tooth for shares of Krispy Kreme after the doughnut shop operator announced its strongest quarterly results in seven years on Monday.
Krispy Kreme (KKD) shares surged to more than 25% to close at $8.05 after the company announced revenue surged 13.6% and income more than doubled in the three months ended May 1, compared to a year ago.
It marked Krispy Kreme's strongest quarterly profit since the fourth quarter of fiscal 2004. Net income came in at $9.2 million, or 13 cents per share, compared to $4.5 million, or 6 cents per share, in the same period last year.
Analysts were expecting earnings of 9 cents per share, according to Thomson Reuters.
Like its chief competitor Dunkin' Donuts -- and other major consumer brands such as McDonalds (MCD, Fortune 500), Coca-Cola (KO, Fortune 500) and Heinz (HNZ, Fortune 500) -- Krispy Kreme raised prices at its stores earlier this year to pass on some of the costs from rising commodity prices to its consumers.
While commodity costs may continue to weigh on the company's supply chain, CEO James Morgan said he's still optimistic the company will earn $22 million to $24 million in the year overall.
"While commodity costs created some headwinds, and will continue to do so for the remainder of the year, we believe we are off to a good start in fiscal 2012," he said in a press release.
Krispy Kreme operates 652 stores globally.