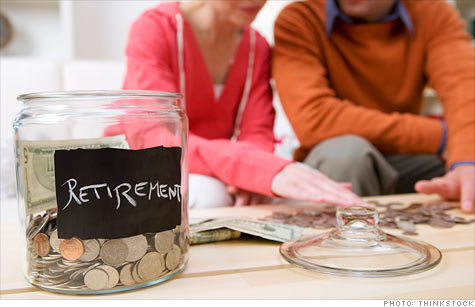 NEW YORK (CNNMoney) -- After record job losses, falling home prices and devalued investment portfolios, the recession has taken a toll on many Americans' financial well being. But retirees and those close to retirement, with little time left to rebuild their savings, face particular hardship.
One in four Americans age 50 or older said they had exhausted all of their savings during the recession, while 67% at least reduced their retirement savings account balances during the previous three years, according to a report by the AARP Public Policy Institute released Tuesday.
More than half, 53%, said they were not confident that they will have enough money to live comfortably in retirement.
"Many older Americans have been buffeted by skyrocketing health care costs, dwindling home values, shrinking pension and investment portfolios and employment struggles," John Rother, AARP's executive vice president for policy, strategy and international affairs, said in a statement.
More than 80% said the economy had impacted their retirement plans. During the recession, nearly one third said their home declined substantially in value and one quarter experienced a job loss.
Of those who reported struggling to make ends meet, 12% opted to forgo their health insurance in the previous three years, and 50% put off medical or dental care or were not taking their medication because of financial considerations.
"Older Americans have good reason to be worried about the future because they have less time than others to recover from the impact of the last three years," Rother said. "When older Americans are borrowing against their future or betting against their health, serious challenges lie ahead."
As a result of their struggles in recent years, 44% of those above age 50 said that they would likely work part-time in retirement, while 33% said they expect to delay retirement. Nearly 13% had returned to the labor force and were either working or looking for work.
The AARP's Public Policy Institute polled more than 5,000 Americans -- age 50 and over -- who were employed, had been employed, or were seeking employment during the recession.