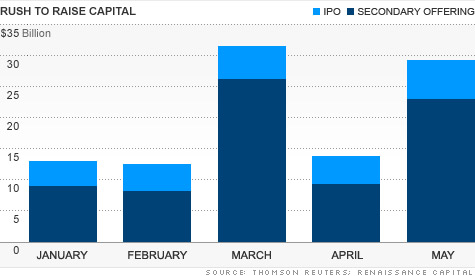 Click the chart for more market data.
NEW YORK† (CNNMoney) -- Shareholders in major U.S. companies are rushing to sell their own stakes, trying to cash out ahead of what many experts say will be a summer of declining stock prices.
"If you haven't raised capital now, you're probably waiting until fall, maybe the winter," said Christopher Murphy, a managing partner with the brokerage firm Cantor Fitzgerald.
Already this year, companies have raised roughly $22 billion through initial public offerings. That's three times the amount raised during the same time period last year. In the secondary offering market, companies raised nearly $72 billion, up 67% from a year earlier.
And private equity firms have been the leaders of the pack.
More than 40% of the companies that have gone public this year were backed by private-equity firms -- the highest level since the bull market highs of 2006 -- according to consulting firm Freeman & Co.
Some notable names include HCA Holdings (HCA, Fortune 500), the largest corporate operator of hospitals and health systems in the U.S.; pipeline and energy transportation firm Kinder Morgan (KMI, Fortune 500); and media company Nielsen (NLSN).
Both HCA and Kinder Morgan were the first- and second-largest private-equity backed IPOs ever, according to Freeman.
Private equity firms are dominating this year because a large number of them have been "forced" to take their companies public, said Nick Einhorn, senior analyst with Renaissance Capital.
"When the financial crisis hit in 2007, it closed the door for a lot of these PE firms to exit their investments," Einhorn said. "These fund managers are facing fund maturities, debt that needs refinancing, to the point that there's been an urgency to bring these companies public."
Now that window may be closing. Stocks logged their worst monthly performance in May since August 2010.
Einhorn and other experts say a good litmus test of the market's resilience could be Toys "R" Us, which is slated to go public sometime in June or July.
"IPOs are a great gauge of overall risk appetite in the market," said Cantor Fitzgerald's Murphy. "If there's a turning away from risk by investors, IPOs are the first to struggle."
Not to be left behind, activity in secondary offerings has also been especially strong, as recently public companies try to raise additional amounts of capital or large stakeholders sell off their shares.
Privately-held food processor Cargill dumped 100 million shares of fertilizer company Mosaic (MOS, Fortune 500) on the market earlier this month, in a deal worth roughly $6.6 billion. And financial services company MetLife (MET, Fortune 500) issued more than $6 billion in stock in March to help fund its purchase of American Life Insurance Co. from AIG (AIG, Fortune 500).
Typically, existing shareholders don't favor secondary offerings, which involve selling large blocks of existing shares, because the deals dilute their stakes.
But this year that has been anything but typical.
Green Mountain Coffee Roasters (GMCR), which makes popular single-serving coffee products, dumped another 8.2 million new shares on the market last month at a price of $71 each, well above the $65 that the company's stock was trading at just a week earlier. Shares of Green Mountain have risen another 12% since then
Another example is clothing company Express (EXPR), which sold 19.8 million shares at $19 apiece in April. The stock now trades above $21.
Still, not all companies are faring well. Some less exciting names, such as chipmaker Freescale Semiconductor (FSL), have had a harder time raising capital. Last week, PE-backed Freescale priced its IPO at $18 a share -- below its estimated price range -- and it's barely budged since.
Either way, most experts say secondary offerings will continue to move at a steady clip at least through the end of June, when the Federal Reserve's quantitative easing strategy ends.
"The stock market has gotten way ahead of the economy, but hey, it's still a great time to be selling stock," Murphy said.