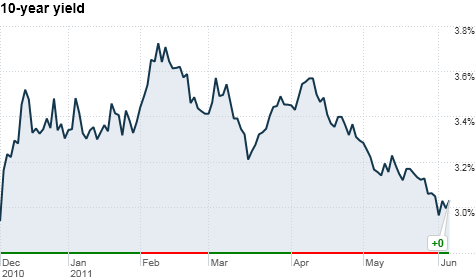 Click chart to track bonds data.
NEW YORK (CNNMoney) -- Treasury yields remained within spitting distance of six-month lows on Monday as investors continued to sort through the implications of Friday's weak jobs report.
The benchmark 10-year yield closed at 3.00%. Last week, investors pushed 10-year yield down as far as 2.95%, the lowest level since early December.
On Friday, Treasury prices jumped after the government reported that far fewer jobs were created in May than expected. The report added high-octane fuel to fears that economic growth is much weaker than previously thought.
Even with the jobs unpleasantness on full display, investors still have two giant elephants in the room to consider: The eurozone debt crisis and the Federal Reserve's response (if any) to the economic slowdown.
With the Fed's bond-buying program coming to a close at the end of this month, a new round of so-called quantitative easing might be in the offing. The Fed, of course, has been less than clear about the likelihood of such an effort.
Meanwhile, Greece and Portugal remain in full-blown crisis mode, which lends support to safe-haven U.S. Treasuries. If the situation across the Atlantic deteriorates any further, that trade will only strengthen.
For traders hoping to confirm or deny their worst fears about the strength of the recovery, there is little in the way of economic data this week to offer guidance.
The most notable data points are the Fed's release of the Beige Book on Wednesday and weekly jobless claims on Thursday. With little data on tap, investors turned their attention to the week's bond auctions.
The Treasury is set to auction $32 billion in 3-year notes on Tuesday, $21 billion in 10-year notes on Wednesday and $13 billion in 30-year notes on Thursday.
Tuesday's auction will benefit from overseas interest, and indicators point to a good auction of 10-year notes on Wednesday, Jim Vogel, head of agency debt research at FTN Financial, wrote to clients in a research note.
What yields are doing: The 30-year yield ticked up to 4.26%, the 2-year yield was little changed at 0.44%, and the 5-year yield dropped to 1.58%.
The 10-year note's yield closed at 3.00%, unchanged from late Friday.