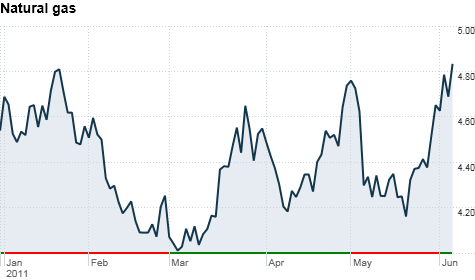 Click the chart for more market data.
NEW YORK (CNNMoney) -- Natural gas prices rose Monday after the International Energy Association issued a bullish outlook and forecasts for warmer weather raised bets about rising energy demand.
July natural gas futures were up 7 cents, or 1.5%, to $4.78 per million BTUs. The contract had risen nearly 3% earlier in the session. After a prolonged slump, natural gas prices have risen more than 6% so far this year.
The International Energy Association released a report suggesting natural gas demand worldwide could rise more than 50% by 2035, amounting to more than a quarter of global energy demand.
The report said ample supplies, strong demand from emerging markets and uncertainty about the future of nuclear energy could result in a "golden age" for natural gas.
Despite such an increase in natural gas consumption, the IEA said the shift would not enough to cut carbon emissions and reduce global temperatures.
The IEA based its assumptions largely on rising natural gas demand from developing economic powerhouses such as China, India and the Middle East.
The group also points out that unconventional gas resources, such as shale gas, are now estimated to be as large as conventional resources. But the report adds that there are serious environmental concerns involved with developing these resources.
In addition, gas prices were supported by a forecast from MDA Earth Stat that predicted significantly hotter weather in several major U.S. cities, including Boston, New York and Chicago. That raised speculation about increased demand for natural gas to generate electricity for air conditioners.
But some analysts say the rally is overdone.
Stephen Schork, president of energy research firm The Schork Group, said the supply and demand fundamentals for natural gas do not justify current prices.
He said the sluggish economic recovery in the United States is hindering domestic demand for natural gas, and since the nation does not export natural gas, rising consumption in emerging markets will not impact prices.
"The bears will probably have to endure another week of headline risk," he said. "But overall the market is starting to get overbought at these levels."