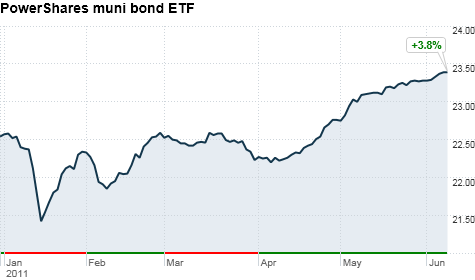 For more on this muni bond ETF, click chart
NEW YORK (CNNMoney) -- The muni bond market is showing signs of life but experts caution that it may be too early to call a full blown recovery.
Cities, school districts and other local government entities are on track to sell $7.33 billion in municipal bonds this week, according to research firm Ipreo. That would mark the highest amount of issuance so far this year.
It's part of a modest recovery that's been slowly taking place since December, when prominent financial analyst Meredith Whitney predicted that "hundreds of billions of dollars" worth of state and city bonds were at risk of defaulting over the next five years.
"The market has improved substantially," said Richard Ciccarone, managing director with McDonnell Investment Management. "The sensationalism surrounding Whitney's comments has died down and borrowers are re-entering the market."
Ciccarone said there are a number of reasons behind the renewed interest. Fixed income investors have been starved for yield for months and that has pushed demand higher across a multitude of bond types ranging from corporate bonds, to junk bonds and now munis.

Secondly, the defaults feared this year simply haven't happened. As muni bond analysts over at Deutsche Bank put it: "Giving Whitney the benefit of the doubt ... she will need more than $800 million in defaults every single day (including weekends) until the end of the year for Whitney's prediction to play out."
The issuance recovery is still in its early stages, as investors continue to punish cities with less-than-stellar credit qualities.
Muni issuance is down more than half than what is was in 2010 year-to-date, according to data from Thomson Reuters.
Experts expect the industry will end the year with $225 billion to $250 billion in fresh issuance, well below 2010 levels of $431 billion.
The increase in issuance and lack of defaults this year hasn't stopped Whitney. This week, the analyst doubled-down in her assertions, saying the credit conditions in the muni market have "only gotten worse" since her initial report.
"There is too much leverage in the system," Whitney told CNNMoney.
While Whitney's prediction may have resonated both with the public and investors, muni bond investors think Whitney has blow things out of proportion.
"There are valid concerns for the credit quality of some of these entities," Ciccarone said. "But it shouldn't be spoken about in these sensationalized terms."