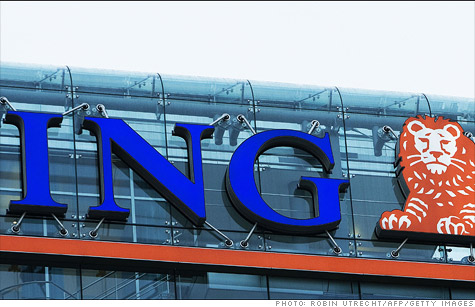 ING Groep plans to sell its U.S. division of online banking, ING Direct.
NEW YORK (CNNMoney) -- The Dutch bank and insurer ING Groep NV is planning to sell its U.S. division of online banking, which has 7.7 million customers, the company said.
"We are in the process of preparing a sale of the U.S. ING Direct unit," said Raymond Vermeulen, head of the media relations for ING Groep. (ING)
Also, at a presentation at a Goldman Sachs (GS, Fortune 500) conference in Paris on Friday, Chief Executive Jan Hommen said his company was "taking steps towards divestment" for ING Direct USA.
The company's stock fell 2% at the start of Friday trading, as the stock price for many other insurers slipped, as well.
Vermeulen said that U.S. customers have more than $82 billion worth of online banking accounts with ING Direct.
Unlike many other U.S. banks, like Citibank (C, Fortune 500) and Bank of America (BAC, Fortune 500), INGDirect does not charge fees for its banking accounts. But it also does not maintain branches in the U.S. and does not provide true checking accounts.
Vermeulen said the U.S. division represents less than 10% of the total clientele for the Amsterdam-based company, which has 85 million customers in 50 countries.
The Wall Street Journal reported the General Electric (GE, Fortune 500) and Capital One Financial Corp. (COF, Fortune 500) had made bid to acquire the U.S. division.
A spokeswoman for Capital One declined to comment. General Electric did not respond to CNNMoney's request for comment.