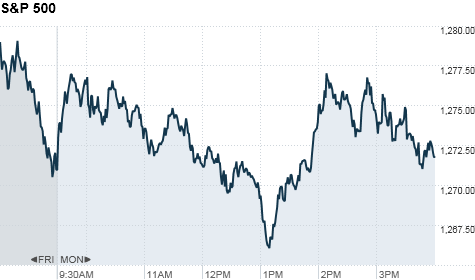 Click the chart for more market data.
NEW YORK†(CNNMoney) -- U.S. stocks closed little changed on Monday after a downgrade of Greece's credit rating tempered earlier investor enthusiasm for a series of corporate deals.
At the close, the Dow Jones industrial average (INDU) rose 1 point, or less than 0.1%, to end at 11,953; the S&P 500 (SPX) added less than a point to close at 1,272; and the Nasdaq Composite (COMP) fell 4 points, or 0.2%, to 2,640.
Stocks opened higher following a series of deals. But the gains were short lived after credit agency Standard & Poor's downgraded its rating on Greece to "CCC." S&P also kept its negative outlook on Greece.
The downgrade pressured the currency and commodity markets. Oil fell 2% to $97.30 a barrel. Silver prices slid more than 4%. And and gold dropped 1% to $1,515.60 an ounce.
Energy and material stocks were hit hard, with Cabot Oil (COG) tumbling 3.5% and Halliburton (HAL, Fortune 500) shares down more than 2%.
"A couple months ago, the market would have overlooked a Greece downgrade," said David Levy, portfolio manager with Kenjol Capital Management. "But with this negative market sentiment, it's another reason to sell."
Stocks have taken a drubbing as of late, with concerns about the economy leaving investors battered and bruised.
With no economic data on tap for Monday's session, U.S. investors focused on a series of corporate deals announced before the opening bell.
Apparel company VF Corp. (VFC, Fortune 500), the maker of Wrangler and The North Face brands, agreed to buy Timberland for $43 per share -- creating a $10 billion apparel and footwear company. Shares of Timberland (TBL) rose 44% and VF Corp.'s stock jumped 10%.
Wendy's/Arby's Group (WEN) rose 1%, after the restaurant operator agreed to sell Arby's to a private equity group led by Roark Capital Group. Wendy's will retain an 18.5% ownership interest in the roast beef chain's business.
These deals were some of the first M&A activity Wall Street had seen in weeks.
"It's an emotional confirmation that businesses continue to deal despite the economy," said Bruce McCain, chief investment strategist at Key Private Bank.
U.S. stocks tumbled Friday, with each of the three key indexes falling more than 1%, and the Dow ending below 12,000 for the first time in months.
Companies: Sears Holdings (SHLD, Fortune 500) was the second-best performing stock in the S&P 500, rising more than 5%.
Honeywell (HON, Fortune 500) announced plans to acquire EMS Technologies (ELMG) for $491 million in cash. Honeywell shares edged higher, while EMS shares jumped 32%.
European Insurance company Allied World Assurance (AWH) agreed to buy U.S. insurance company Transatlantic Holdings (TRH) for approximately $3.2 billion in an all-stock deal. Transatlantic shares rose 10%, while Allied World shares were down 4.5%.
Shares of Citigroup (C, Fortune 500) rose 3% despite a Wall Street Journal report that said the bank waited three weeks before notifying customers of a credit card hack attack.
Bonds: The price on the benchmark 10-year U.S. Treasury edged slightly higher Monday afternoon, pushing the yield down to 2.96% from 2.97% late Friday.
World markets: European stocks finished higher. Britain's FTSE 100 and the DAX in Germany edged up 0.2%, and France's CAC 40 added 0.1%. Europe markets were closed by the time the S&P Greece downgrade was announced.
Asian markets ended mixed. The Shanghai Composite lost 0.2% and Japan's Nikkei slumped 0.7%, while the Hang Seng in Hong Kong added 0.4%.
China is slated to release its latest consumer price data overnight. Investors will be looking at the report closely for any hints of a slowdown in growth.