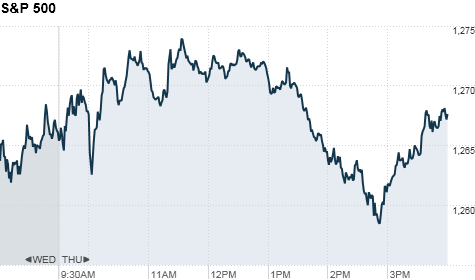 Click the chart for more market data.
NEW YORK†(CNNMoney) -- U.S. stocks closed mixed on Thursday as weakness in the tech sector countered stronger-than-expected reports on the housing market and unemployment.
The Dow Jones industrial average (INDU) rose 64 points, or 0.5%, to 11,962. The S&P 500 (SPX) rose 2 points, or 0.2%, to 1,268; and the Nasdaq Composite (COMP) lost 8 points, or 0.3%, to 2,624.
Stocks see-sawed throughout the day, with the Dow rising as much as 90 points and falling as much as 20 points. Technology shares dragged the broader market lower, with Netflix (NFLX) falling 3%, while Apple (AAPL, Fortune 500), Qualcomm (QCOM, Fortune 500) and Nvidia (NVDA) dropped 2% or more.
Deepening worries about Greece's debt continue to keep investors on their toes until a bailout for the country is agreed upon by eurozone officials.
As protesters continued to rally against austerity measures Thursday, Greek Prime Minister George Papandreou reportedly said he will introduce a new government and take a vote of confidence in Parliament.
Stocks were in danger of extending the losses from Wednesday, when the Dow fell nearly 180 points on gloomy manufacturing data and news that eurozone officials failed to agree on a rescue plan for Greece.
The losses have been part of a steady weakening in U.S. stocks since the start of May, with the major indexes on track to decline for a seventh straight week. The S&P is within 11 points of going negative for 2011. The index opened the year at 1,257.64.
"Anyone who is selling stock at these levels anticipates a double-dip[recession]," said Jack Ablin, chief investment strategist with Harris Private Bank.
Economy: The Federal Reserve Bank of Philadelphia manufacturing survey unexpectedly declined to a reading of minus 7.7 in June while economists had forecasted a reading of plus 7, according to Briefing.com
But with the exception of the Philly Fed survey, investors did have several better-than-expected economic data to mull over -- with initial unemployment claims from the Labor Department as well as May housing starts and building permits from the Commerce Department both coming in stronger than expected.
Traders urged caution.
"While the economic data was better than expected, growth remains muted and there's more negative than positive sentiment in the market," said Stephen Carl, head trader with Williams Capital.
The government reported that jobless claims slipped to 414,000 last week, down 16,000 from the prior week. Economists had expected a more modest decline in weekly claims to 421,000.
Housing starts jumped 3.5% in May to a seasonally adjusted annual rate of 560,000. They were forecast to have risen to a 540,000 annual rate in May, from 523,000 in April.
Building permits also beat expectations, rising 8.7% to a seasonally adjusted annual rate of 612,000 in May, from the prior month's rate of 563,000. Economists had expected permits to edge lower to a 548,000 annual rate.
World markets: European stocks ended modestly lower. Britain's FTSE 100 slumped 0.7%, the DAX in Germany fell 0.1% and France's CAC 40 dropped 0.4%.
Asian markets slumped following Wednesday's U.S. sell-off. The Shanghai Composite slid 1.5%, the Hang Seng in Hong Kong dipped 1.8% and Japan's Nikkei lost 1.7%.
Companies: Natural-gas pipeline company Energy Transfer Equity (ETE, Fortune 500) will buy Southern Union (SUG) for $7.9 billion. The news sent shares of Southern Union up 18%.
Pandora (P) shares plunged 23% the day after the company's IPO after an analyst with BTIG Research put a "sell" rating on the stock with a $5.50 price target.
Supermarket chain owner Kroger (KR, Fortune 500) said quarterly earnings rose to 70 cents a share, beating analysts' expectations for 64 cents per share. Shares were up 4.5%, making it the best performer on the S&P 500.
Shares of BlackBerry maker Research in Motion (RIMM) plunged 15% in after-market action. RIM cut its full-year outlook and said it will begin cutting jobs.
Currencies and commodities: The dollar strengthened against the euro and the British pound, but slumped versus the Japanese yen.
Oil for July delivery rose 14 cents to $94.95 a barrel, after dropping more than 4% on Wednesday and hitting the lowest level since February.
Gold futures for August delivery $3.30 to $1,529.90 an ounce.
Bonds: The price on the benchmark 10-year U.S. Treasury rose, pushing the yield down to 2.94% from 2.97% late Wednesday.