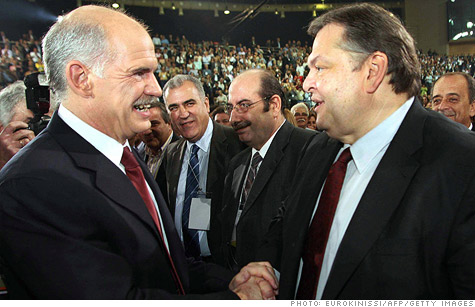 Greek Prime Minister George Papandreou, left, appointed Evangelos Venizelos as finance minister. They are shown here in a 2007 photo.
ATLANTA (CNN) -- Greek Prime Minister George Papandreou reshuffled his Cabinet on Friday amid a financial crisis that could reverberate far beyond his country's borders.
Evangelos Venizelos, the former defense minister, now will serve as finance minister and deputy prime minister. He replaces Giorgos Papakonstantinou, who will become the environment minister, a government spokesman said.
The new cabinet members were sworn in during a televised ceremony at about in at 1 p.m. local time.
Papandreou faces opposition from his party over the austerity measures, which are intended to reduce the government deficit in order to secure a second bailout package from institutions including the International Monetary Fund and the European Union.
There are fears that efforts to restructure Greece's debt could wreak havoc with Europe's banking sector, sparking investor panic similar to the issues that caused the 2008 collapse of the Lehman Brothers investment bank.
The crisis raises concerns for Europe's currency, the euro. If a struggling nation such as Greece, Portugal or Ireland were to default on its debts, it could adversely affect the world economy.
The IMF said Thursday it would continue to back Greece provided that Greece carried out economic policy reforms agreed upon by the government.
In Washington, White House spokesman Jay Carney said U.S. officials are monitoring the situation in Greece closely but believe their European counterparts have the capacity to deal with it.
"We consider it a headwind, if you will, in terms of the global economy and therefore the domestic economy," he said.
"So far, Greece has made significant progress in terms of reforms. But it is important that the Greek government carry on with the fiscal measures and reforms that are frequently under discussion with the EU and the IMF."
The government's popularity has plunged recently, and anti-government protests turned violent Wednesday, as demonstrators threw gasoline bombs at the Ministry of Finance and police fired tear gas at protesters, police said.
On June 9, the Cabinet approved a tough five-year plan for 2011-15 and introduced a bill in Parliament to put the measures into effect.
The government has said that the passage of these additional measures is essential to Greece's securing the fifth portion of a $158 billion bailout package that Greece signed with the European Union and the International Monetary Fund to prevent the country from defaulting on its debts.