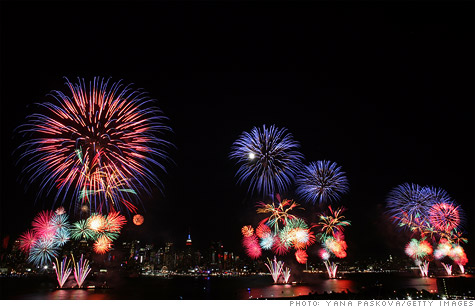 Fireworks explode over New York City's Hudson River, a popular Fourth of July travel destination.
NEW YORK (CNNMoney) -- Planning to get away this Fourth of July? Better book fast.
Although airfares for the holiday weekend have held steady for most of June, they are expected to jump 10% by Thursday, based on Travelocity's historical airfare data.
That gives last-minute vacationers very little time left to book their trips before prices start climbing.
Thanks to rising fuel costs and consumer demand, airfares are already higher than they were last year. The average domestic round-trip airfare is $388, up 7% from 2010's Fourth of July holiday weekend, according to Travelocity.
But many Americans are determined to go on a vacation this summer, even though discretionary spending is tight.
Once travelers arrive at their destinations things should become a little more wallet-friendly.
"Though there's not much wiggle room in airfare pricing over a holiday weekend, there's a lot more opportunity to find hotel deals," said Genevieve Shaw Brown, editorial director at Travelocity.
Although the average daily rate, or ADR, at hotels is $144, up 9% from 2010, Brown said that many hotels are offering special deals and packages that will help cut costs significantly.
To boost value without compromising rates, hotels are increasing the number of promotional offerings available. This summer there are a slew of offers, such as free nights, room upgrades, resort credits, spa treatments, rounds of golf and complimentary breakfasts that travelers can take advantage of.
"That's a great way to save when you're not getting a big discount on the hotel rate," said Orbitz senior editor Jeanenne Tornatore. "You're saving money you would otherwise be spending."
The Venetian Resort in Las Vegas, for example, is offering 20% off breakfast and complimentary line passes and admission to its LAVO Nightclub over the Fourth of July weekend. Vacationers at the Westin Resort & Spa in Cancun, Mexico can choose to stay a fourth night for free or opt for a $200 food and beverage credit and room upgrade (subject to availability).
"These deals are literally everywhere," Brown said.

Mary Song, founder of travel site Yuupon.com, advises travelers to look for specific pages on travel web sites dedicated to the Fourth of July or to even conduct a search on Google for "Fourth of July travel deals" to find the best offerings.
Many times, she said, there are specials that are not even listed on a hotel's own site.