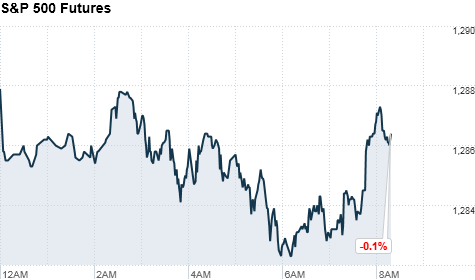 Click chart for more premarket action.
NEW YORK†(CNNMoney) -- U.S. stocks were poised to open little changed Wednesday, ahead of the Federal Reserve's latest interest rate decision.
Dow Jones industrial average (INDU), S&P 500 (SPX) and Nasdaq (COMP) futures were slightly lower ahead of the opening bell. Futures measure current index values against perceived future performance.
Stocks rose Tuesday, as investors anticipated that Greek Prime Minister George Papandreou would win a confidence vote and be able to push ahead with more austerity measures.
After the closing bell, Greek lawmakers voted to support Papandreou's government. The win boosted the likelihood that the country will be able to secure a bailout package and avert a default.
But Tuesday's optimism shifted to caution early Wednesday, as investors awaited the Fed's latest interest rate decision. Most expect the Fed will keep rates steady but investors are keen to hear what Chairman Ben Bernanke has to say about the economy.
Economy: The central bank will conclude its two-day meeting on Wednesday, with the interest rate decision being announced at 12:30 p.m. ET. Bernanke's press conference starts at 2:15 p.m. ET.
Companies: Shares of Adobe Systems Inc. (ADBE) slumped more than 5% in premarket trading. The software maker posted a 54% jump in second-quarter profit after the market close Tuesday, but issued a revenue outlook that fell short of expectations.
Carmax (KMX, Fortune 500) reported first-quarter earnings that widely beat expectations, sending shares of the company 8% higher before the opening bell.
Royal Phillips Electronics (PHG) warned that second-quarter profit would drop sharply and miss expectations. U.S.-listed shares of the electronics maker tumbled 13%.
Shares of BB&T Corp. (BBT, Fortune 500) climbed more than 1% after the company announced a third-quarter dividend of 16 cents late Tuesday. The company will release second-quarter earnings Wednesday morning.
FedEx (FDX, Fortune 500) reported earnings and sales that topped forecasts, and hiked its outook. That sent shares of the shipping company up 3% in premarket trading. Shares of rival UPS (UPS, Fortune 500) edged up 1.3%.
Bed Bath & Beyond (BBBY, Fortune 500) will report quarterly results after the market close Wednesday. The home decor retailer is expected to earn 62 cents a share.
Video streaming website Hulu LLC is considering putting itself up for sale, according to news reports that cite people familiar with the situation.
World markets: European stocks were mixed in afternoon trading. Britain's FTSE 100 fell 0.2%, the DAX in Germany rose 0.1% and France's CAC 40 was unchanged.
Asian markets ended the session higher. The Shanghai Composite inched up 0.1%, while the Hang Seng in Hong Kong ended barely above breakeven, and Japan's Nikkei jumped 1.8%.
Currencies and commodities: The dollar gained against the euro and the British pound, but edged lower versus the Japanese yen.
Oil for August delivery slipped 26 cents to $93.91 a barrel.
Motorist group AAA released a forecast saying more Americans are staying home for the 4th of July weekend compared to last year -- with 39 million Americans expected to travel 50 miles or more from home between Thursday, June 30 and Monday, July 4. That's down 2.5% from last year, when 40 million Americans celebrated the long weekend away from home.
Gold futures for August delivery added 30 cents to $1,546.70 an ounce.
Bonds: The price on the benchmark 10-year U.S. Treasury rose, pushing the yield down to 2.95% from 2.99% late Tuesday.