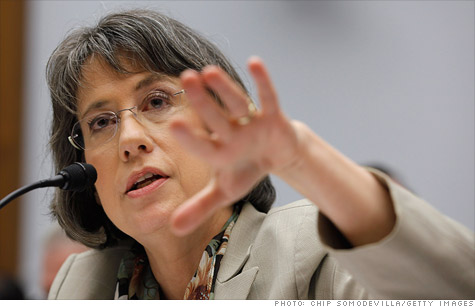 FDIC head Sheila Bair said inadequate bank cash cushions could lead to "another leverage-driven banking collapse."
WASHINGTON (CNNMoney) -- The new big fight among Wall Street banks and their regulators is about how much extra cash banks should keep around for rainy days.
And two high-ranking bank regulators are at odds over the issue.
John Walsh, the acting head of the Office of Comptroller of the Currency, which regulates 1,500 banks, said on Tuesday that bigger bank capital cushions could threaten the economy.
And on Wednesday, outgoing FDIC head Sheila Bair pushed back.
Bair, who is leaving her post on July 8, told lawmakers that she wants banks to keep more money on hand and called new rules on bank capital the "single-most important provision" of the 2010 Wall Street reforms.
The issue is near and dear to the hearts of bankers. Over the past two decades, banks drastically increased the amount of money they lent out or used to make financial bets, compared to the deposits they took in. Such over-leveraging is often cited as one of the causes of the 2008 financial crisis.
Lawmakers have argued that larger capital cushions could have let more banks weather the crisis and may have lessened the need for taxpayer bailouts like the ones received by Citigroup (C, Fortune 500) and Bank of America (BOA).
In the aftermath of the crisis, Congress decided that banks should maintain bigger capital cushions. But lawmakers punted on the tough decision of how much, leaving that to regulators to decide.
Meanwhile, banks around the globe have until 2019 to start working up to a 7% capital cushion, according to global standards agreed to last year.
But the biggest banks -- JPMorgan (JPM, Fortune 500), Citigroup and Bank of America -- could be required to keep even bigger reserves. How much more is what's up for debate.
Banks are lobbying heavily, pushing for lower limits, because keeping money home doesn't make them much money.
JPMorgan CEO Jamie Dimon, in an unusual public exchange this month with Federal Reserve Chairman Ben Bernanke, suggested that bigger capital cushions would lead to less bank lending and threaten the economic recovery.
On Tuesday, bank regulator Walsh said the same thing in a speech in London.
"Higher capital fosters a safer banking system, but if carried too far, the economy suffers when banking activity is not sufficient to support desired levels of real economic activity," said Walsh, who took over as acting chief in 2010.
But Bair has said she doesn't buy the argument.
In her last appearance before Congress, Bair warned that a lack of tough rules on bank capital "would eventually create the conditions for another leverage-driven banking collapse."
In addition, she argued that tougher capital rules would have a "modest" effect on lending and economic activity.
Bernanke said at a press conference Wednesday that he would also back strong capital rules, especially for the biggest banks whose failure could threaten the financial system.
"Because their failure would have very deleterious effects on the financial system, we need to take extra steps to make sure that they will be very unlikely to fail," he said.