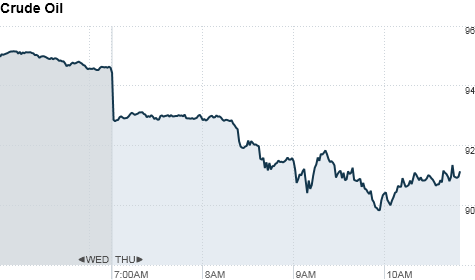 Click the chart for more commodities-related data.
NEW YORK (CNNMoney) -- The price of oil was the big talker on StockTwits on Thursday, following the news that the International Energy Agency was releasing 60 million barrels of oil into the market.
The IEA's announcement sent crude oil futures plunging more than 4.5%, briefly falling below $90 a barrel in late-morning trading.
The drop in oil took the broader market with it, with the Dow plunging more than 200 points, with the biggest laggards among the blue chips being Exxon Mobil (XOM, Fortune 500) and Chevron (CVX, Fortune 500).
StockTwits users had mixed opinions on the IEA's decision. While some said 60 million barrels could help relieve the recent supply disruptions caused by the ongoing unrest in the Middle East, others saw it as a poor policy decision, noting oil was already well below the $114 a barrel it hit earlier this year.
Outside of the energy market, investors also focused on Thursday's digest of mostly-disappointing economic data. Weekly jobless claims rose more than expected to 429,000 claims while May new homes sales slipped 2%.
There was plenty to talk about.
harmongreg releasing 60 million barrels is equal to less than 3 days consumption right? $CL_F $USO
bespokeinvest Today's drop in oil is an annualized benefit of roughly $36 billion based on US consumption. S&P 500 has lost $200 billion today alone.
PCHtrades $CL_F Agree that releasing oil reserves seems like a stop gap last resort type measure and could induce additional fear into market
valuewalk releasing $OIL to lower oil from the SPR is almost as dumb as ethanol subsidies.
arxitekt $USO lower oil prices is good for the economy.... what economy?