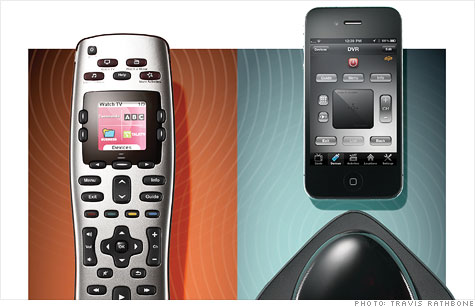 Universal remotes cut down on electronic clutter.
(Money Magazine) -- Universal remotes cut down on electronic clutter, but can be clumsy to use. A new device that lets you turn your smartphone into a remote is a better solution.
Logitech Harmony 650
Price: $100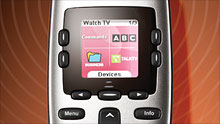 The setup: As with most universal remotes, you go to a website, tell it what kinds of devices you have, then attach a cable to your PC to sync it with the remote.
What's great: The Logitech (LOGI)Harmony is one of the best of its breed. Buttons are easy to press and customize; there's a handy help knob for the all-too-familiar situation in which the buttons aren't talking to the right device.
What's not: The 650 can control only five gadgets; when the connection goes awry, the help button can't always solve the problem.
Top pick: Griffin Beacon
Price: $80
The setup: Put the Beacon device within 30 feet of your gadgets, and control it via an app you download onto your smartphone. The Beacon sends commands to your electronic devices using a infrared signal.
What's great: Configuring the app on your smartphone is easy and can be customized to display, say, your favorite channels. You can still answer calls while channel-surfing.
What's not: When your smartphone leaves the house, your universal remote goes with it. The Android app isn't available until September.
The bottom line
Both remotes are compatible with more than 200,000 devices and can be customized. However, the Beacon is the best choice, thanks to its sensible app interface -- as long as you've got multiple smartphones in the family.