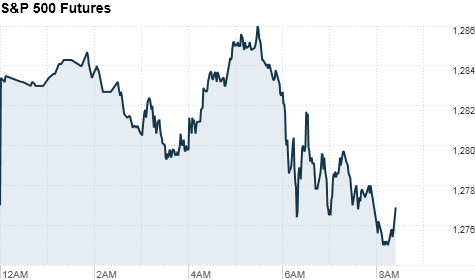 Click chart for more premarket data.
NEW YORK†(CNNMoney) -- Stocks were headed for a flat open as investors digested reports on U.S. gross domestic product and durable goods orders.
Futures pulled back from an earlier rise that was fueled by an austerity agreement reached among Greek leaders, the European Union and IMF.
Dow Jones industrial average (INDU), S&P 500 (SPX) and Nasdaq (COMP) futures were slightly higher ahead of the opening bell, but lacked conviction. Futures measure current index values against perceived future performance.
Volume has been light so it could be a volatile session, said Peter Cardillo, chief market strategist at Avalon Partners.
"It's been the case on both sides of the coin -- when we're up, we're up and when we're down, we're down -- there have been some exaggerations," he said.
After tanking earlier in the session Thursday, U.S. stocks recovered nearly all their losses in the last hour of trading, when news broke about Greece's aid package.
The European Union pledged to extend aid to Greece, as long as the country introduces another round of tax hikes and spending hikes -- in an effort to help the debt-stricken country avoid a default.
While that eases some eurozone jitters, there are plenty of other issues investors can worry about, said Cardillo.
"The news out of Europe is good, but it doesn't cure all the problems," said Cardillo. "I think the market has made a bottom, and we'll sit within this trading range as we go through the next month of economic data -- but we still have slow global economic activity."
Economy: The Commerce Department's final reading on first-quarter GDP came in at 1.9%. Economists had expected GDP to remain steady at the previous revision of 1.8%.
Durable goods orders rose 1.9% in May, slightly higher than the 1.5% increase economists had been expecting. That's an improvement from April's downwardly revised 2.7% decline in orders.
World markets: European stocks rallied on the news of an austerity agreement. Britain's FTSE 100 climbed 0.8%, the DAX in Germany jumped 0.9% and France's CAC 40 rose 1%.
Asian markets ended the session higher as well. The Shanghai Composite soared 2.2%, the Hang Seng in Hong Kong rose 1.9% and Japan's Nikkei added 0.9%.
Companies: Shares of Southern Union (SUG) jumped 15% in premarket trading, after Williams (WMB, Fortune 500) offered to buy the pipeline company for $39 per share in cash. That tops Energy Transer Equity's (ETE, Fortune 500) earlier bid for the company.
Oracle (ORCL, Fortune 500) reported earnings after the bell Thursday. While earnings were in line with expectations, the company's software division struggled. Shares of Oracle slipped more than 3% in premarket trading.
Micron Technology's (MU, Fortune 500) weak earnings results sent shares of the company tumbling 12% before the opening bell.
Shares of ConAgra Foods Inc. (CAG, Fortune 500) slumped more than 3% in premarket trading, after the food company reported disappointing fourth-quarter earnings Thursday. The company said its bottom line is being hit by rising food prices and that profits in the current quarter are expected to decline.
Newell Rubbermaid's (NWL, Fortune 500) stock jumped more than 3% after the company named former Unilever (UN) executive Michael Polk as its new chief executive. Polk will succeed Mark Ketchum, who is retiring but will remain a director.
Other notable premarket movers included Public Storage (PSA), Scripps Networks (SNI), and Comcast (CMCSA, Fortune 500). Tiffany and Co. (TIF), First Solar Inc. (FSLR) and Radio Shack (RSH, Fortune 500) were down more than 1% before the opening bell.
Currencies and commodities: The dollar weakened against the British pound and the Japanese yen, but rose versus the euro.
Oil for August delivery gained 23 cents to $91.25 a barrel.
Gold futures for August delivery fell $1.30 to $1,519.20 an ounce.
Bonds: The price on the benchmark 10-year U.S. Treasury edged higher, yielding 2.91%.